Summer is upon us. For many people that means extra driving whether it is to fun events around town with the kids are even a cross-country road trip. This post with safe summer driving tips is brought to you by Autotrader to help you and your family get involved in making your car summer ready. From checking your tire pressure to getting your kids involved in giving your car a deep summer clean are ten trips to make the drive safer and more enjoyable.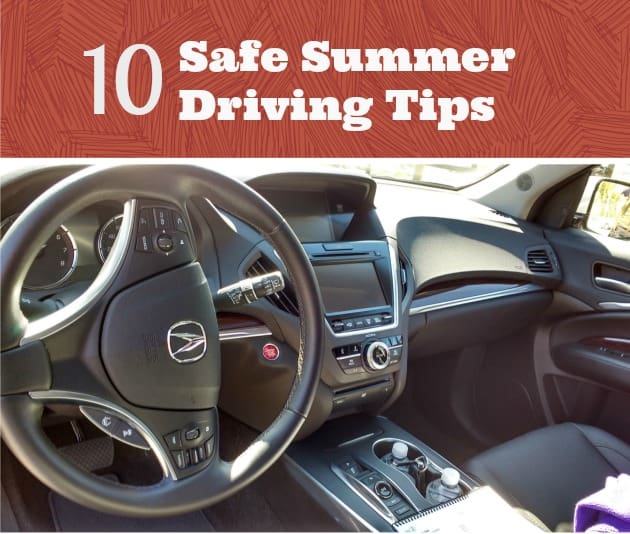 10 Safe Summer Driving Tips
1. Check your fluid levels.
Make sure your fluids are all topped off for best car performance. The radiator fluid level is especially important to check as it needs water and antifreeze coolant to cool your car engine. You can get simple instructions for how to check your car's coolant level here. And while you are at it, you may want to bring water along with you on your summer expeditions to keep your own fluid levels topped off!
2. Check tire air pressure.
Properly inflated tires are important to both safety and getting your best gas mileage. According to fueleconomy.gov, "you can improve your gas mileage by up to 3.3% by keeping your tires inflated to the proper pressure."
3. Get an oil change.
Getting regularly scheduled oil changes based on your manufacturer's recommendations is very important to the health of your car engine and to keeping it running at it's best. Also be sure to use the manufacturer's recommended grade of motor oil to improve gas mileage.
4. Check tire treads.
Another of the most important safe summer driving tips is to be sure your tires are safe. If you have older tires you can use the coin test to see if you need new tires.
5. Keep your trunk empty.
If you are driving around town, keep your trunk empty so you don't have to haul extra weight and lower your gas mileage. If you are going on a road trip, empty your trunk before loading in the new luggage.
6. Keep your car junk-free.
This tip is only great for enjoying your car more, it is also important for safety. If you kid's baseball or your dog's bone roll under the seat and into the front seat area, it can become a safety hazard to the driver.
7. Crack your windows when you park and/or use a sunshade.
If you feel safe doing so, leave your windows cracked just a small amount so the car doesn't turn into a huge oven while you run into the store. A dash sunshade also is a great way to keep your car a bit cooler and protect the health of your dashboard.
8. Get a car wash.
Don't let dirt and bugs affect your vision. Make sure to get a car wash or at least use the windshield cleaner at your gas station to keep you windshield easy to see through.
9. Keep a roadside safety kit in your car.
It is always good to be prepared for emergencies in case they happen.
10. Make sure your gas tank is half full.
My grandmother always told me to make sure my gas tank was at least half full and if it ever drops under, go fill it up. I try to follow that advice when I can just to make sure I never run out of gas.
As you know, Autotrader has a lot of great advice surrounding vehicles, whether buying, selling or taking care of the one you have. You may also enjoy reading Autotrader's list of top summer safety and car care tips.
Autotrader is providing a Summer Car Care Kit for me to giveaway to one of my readers.
Summer Car Care Kit Giveaway:
One lucky reader will receive one Autotrader Summer Car Care Kit including one $25 VISA Gift Card, one Autotrader branded charger, one Tire Pressure Gauge, one Roadside Safety Kit, one sunscreen, Poncho 4 pack, one car safety tool, and one emergency wind up flashlight. ($122 Value)
Giveaway Dates: June 17- July 18, 2016
How to Enter: Enter through Giveaway Tools- just sign into the widget and click the entries you want to complete (comment, follow, or share).
Giveaway Announcement:
Winner announced above in the Giveaway Tools widget on July 19, 2016. Winner will be selected randomly through Giveaway Tools and I will notify by email. Winner must respond within 4 days or the prize will be forfeited and alternate winner will be chosen. Your email will not be shown and will be kept private.
Are you going on any summer road trips? Which safe summer driving tips do you need to do to get ready?