A Child often comes up with tricky questions; you are often loss for words. This because your child reaches the peak of cognitive development, his brain develops up to 90% in the first five years of age. So as a parent, it is your duty to nurture his creative mind and help him think logically. Arrange for some fun activities to boost your kids creativity rather than just playing video games or watching videos on iPhones or tablets.
Once your child gets addicted to electronic gadgets, it is very difficult for her to concentrate on anything else. Research shows that creative activities boosts the child's mental development and promotes holistic growth. Creative activities also improve a child's motor skills like eye and hand coordination. These creative activities will keep your child busy for hours and will stop them from whining. They will learn new things while interacting and it will help them to take decisions on their own. Here are some easy activities to enhance your child's creativity.
Fun Activities to Boost Your Kids Creativity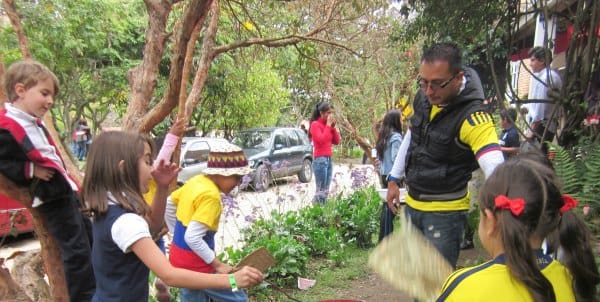 1. Finger Painting
Opt for non-toxic finger paints or better still make your own super cheap and sparkly finger paints. This activity will help your child hone motor skills and stimulate their creative mind – they can customize colors and make their own paintings. Place an old sheet or newspapers on the floor to prevent mess. Here is a quick and easy recipe to make non-toxic finger paint at home.  Kids love learning how things are made and they will grow more creative as they are inspired by the possibilities.
2.  Read Along

Reading is one of the quickest and most effective ways to bolster imagination and creativity. Don't restrict yourself to only reading; create questions and activities around only reading. For example, ask your child some questions about the story. Encourage, your child to make crafts based on the story. Get a library membership to encourage the reading habit in your child, it will help him in the long run. You can also look at pinterest for inspiration. If your child cannot read all by himself, then read to your child and point at the pictures.
3. Coloring Sheets
Children are inspired by arts and the sky's the limit for the creativity here.Simply download free printable coloring sheets and you are set to go. The children can color the sheets and then do crafts like cutting and pasting. They can use glue glitter colors, beads and buttons on the sheets to make them look beautiful. In fact coloring sheets are the most transportable children's toy. Just carry along a tub of colors and some coloring sheets and you are good to go.
You can find a host of coloring sheets here at MomJunction. You can find a plethora of information about festivals, seasons, animals, numbers, math and even favorite cartoon characters.  If your child yearns to be even more creative, they can flip the coloring sheet over afterwards and try to draw the scene themselves.
4. Culture Club
Studies indicate that role playing and dramatics fosters creativity and nurtures the imaginative mind. Form a culture club where your children can indulge in activities like singing, dancing and acting.All these activities involve thinking on the feet .Encourage the children to be impromptu in their performances. The idea is to have fun and not judge the children.
Children can download music and lyrics from the websites and give performances. This boosts self-confidence.
Children can also role play – act like a doctor or a chef.
Encourage the children to practice an instrument and hold jam sessions.
5. Learn a second Language
Research indicates that learning a second language is challenging however introducing your child to the basics is fun and easy and will prepare the road.  Children fluent in second languages are sharper, more productive and multitasking comes naturally to them.  You can opt for Spanish or French. Adequate resources are available in a library.Children also get to learn about the culture of that country like the customs, traditions and daily routines of the foreign country. It also gives them an opportunity to escape the mundaneness of normal life.
It is important to inspire children to be creative, imaginative and productive.  Such children are self-confident and reach greater heights in life. We can foster such an environment at home using these simple guidelines. Just ensure that you always leave enough time for some physical activity rather than focusing on structured play all the time. Try these guidelines and let us know how you were able to engage your children to kick the electronic gadget habit at least for a short while. Which of these activities to boost your kids creativity do you think your child will enjoy most?
Post written by Aradhana, a passionate writer who loves to write on topics like parenting, wellness, health and lifestyle.  She believes good health is the key to success and happiness. I am a contributor for natural news, elephant  journal, naturally savvy and MomJunction. Through her writings, she wants to motivate people to develop healthy habits and adopt natural ways of living to achieve sound health.