This is a step-by-step recipe for baked avocado and egg! Whether you are looking for an easy quick dinner or breakfast this combination is perfect. Add grits on the side for breakfast or top with sour cream and bacon bits for dinner. This is a great alternative to a traditional baked potato. Avocados are good for you and you can use greek yogurt as a sour cream substitute and crushed chili peppers as a bacon substitute for a healthy alternative. I hope you enjoy this healthy baked stuffed avocado recipe.
Healthy Baked Stuffed Avocado Recipe With Egg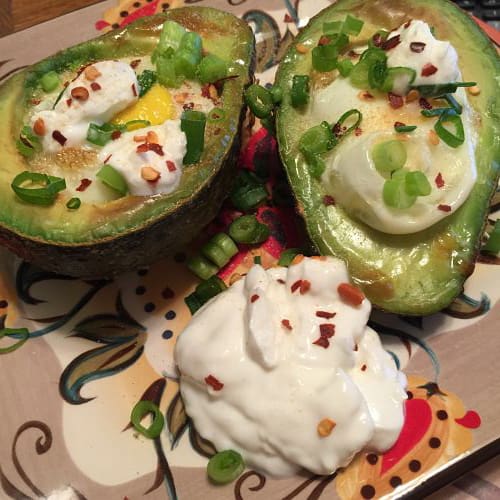 serves 1
Baked Stuffed Avocado Ingredients:
1 Avocado
2 Eggs
Green Onion
Plain Greek Yogurt
Onion Powder
Garlic Powder
Crushed Chili Peppers
How To Cook A Baked Stuffed Avocado With Egg:
Preheat the oven to 425 degrees.
Cut the avocado in half and remove the pit. Sometimes the seed can be difficult to remove; the easiest way is to put the blade in the seed and twist to the side! If you save the avocado pit, you can grow an avocado tree!
Next, take a spoon or even a small tablespoon and scoop out some of the avocado. It is best to scoop to the bottom. This is so the egg does not spill out.
Slowly pour the eggs into the avocados. 
Shake some onion and garlic powder on top and pop those stuffed avocados into the oven.
If you want a more cooked egg, then leave them in for 15 minutes. I personally enjoy mine a little runnier so I left mine in for about 11 minutes. 
Once the baked stuffed avocado is done take it out and let cool for a couple minutes. In the meantime dice 1 green onion; only use the green bits.
Put the avocados on a plate and sprinkle the green onion on top along with some crushed chili pepper.
Since this baked stuffed avocado is somewhat like a healthy baked potato I added a little greek yogurt on the side. Greek yogurt is a perfect substitute for sour cream!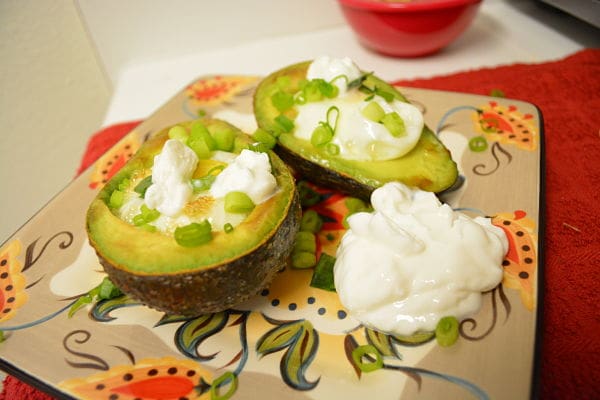 This baked stuffed avocado with egg is such a hardy meal filled with protein, I hope you enjoy!
How often do you cook with avocados? Would you try this baked stuffed avocado and eggs recipe? If you do please let us know how you enjoyed it!
Like us on Facebook!