It is the season to be spending time with family and attending or hosting holiday parties. Family time is cherished even more during this busy holiday season. Whether you are sitting down to your usual family board game night or hosting a holiday party, I think you will find the new family board game, Double Ditto, to be a huge hit. This post is sponsored by Inspiration Play, makers of Double Ditto Family Party Board Game. All opinions expressed are my own.
New Family Board Game: Double Ditto Review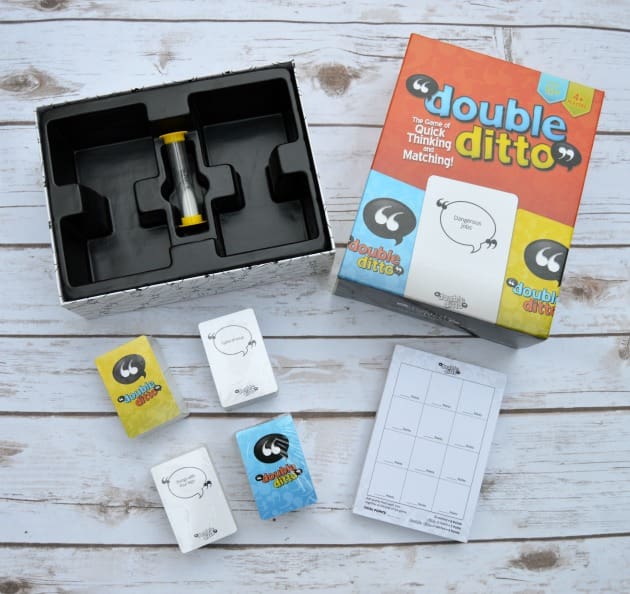 I am so happy to have received a Double Ditto party board game for review. We had a lot of fun with this game and I am sure you will love the new family board game as well because it has a very broad appeal. Double Ditto is easy to learn to play, has a simple objective, and is fun for both old and young.
Ages: 10+ (I think as long as a child can write they would enjoy this game so I'd say younger players are fine. My nine year old loves it.)
Players: 4 – 10 or more (You can play with as few as 3 players and still have fun from our experience. You can also play in groups if you have a large reunion.)
Objective: To score the most points
Play proceeds in a circle with each person taking a turn to read the topic card (such as "games that last forever", "things you clean every day", and "things you wrap").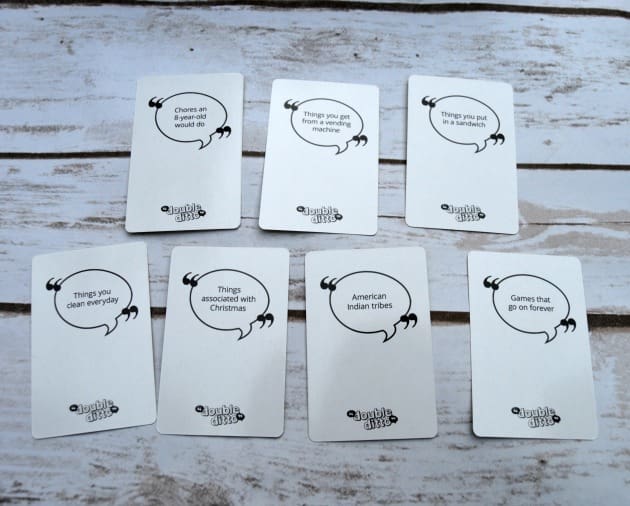 Each player quickly writes down 2 answers they think other players will also write (15 second timer). Then comes the fun part as you each read your answers and discover whether you matched answers with other players. Find out whose mind is in sync with yours- it may not be who you expect! If you have two matches in a single turn that is a Double Ditto and you score extra.
Answers can be as creative as player's desire, making this game appropriate and customizable for any gathering of family, friends, or co-workers. This is one of those family party games that you will want to play again and again because it is easy for new people to understand, moves fast, and should appeal to everyone. This family party game is a keeper and it would work great for family night, girls night, birthday parties, holiday gatherings, or family reunions.
It is great to have a good stash of family games to play home. We have a few family favorites and we will definitely be adding Double Ditto to our short list of best party board games. It is the kind of game that is fast paced so it is easy to keep everyone entertained and involved. The short average play time is about 20-30 minutes depending on the number of players and that time frame works well holding everyone's interest while still allowing them to get really into the game. It also leaves open enough time for rematches for the extra competitive family members. Last, but not least, it is great for a wide variety of players including all different ages and personalities and by design the game allows you to find some common ground with other players.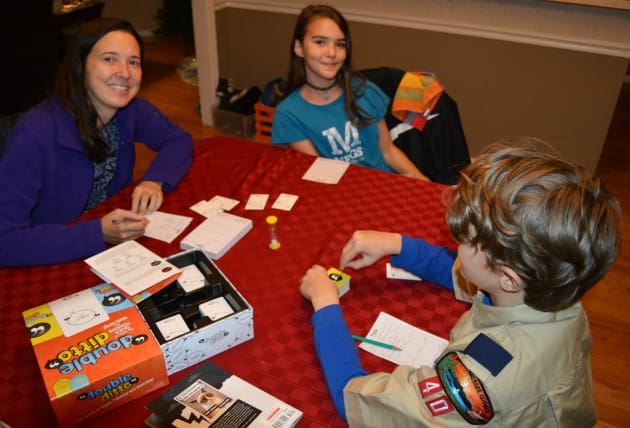 My family has a lot of fun playing Double Ditto and I can tell you that I will be pulling it out to use as both a Thanksgiving party game and a Christmas party game to enjoy with friends and family. If you are looking or fun party board games, you will be glad you found Double Ditto!
Double Ditto Discount
You can purchase Double Ditto new family board game on Amazon with coupon code DDFAMILY for 25% off! Just enter the code at checkout.
Double Ditto Giveaway
Enter for a chance to win one Double Ditto family party game. ($19.99 value) There will be three winners.
Giveaway Dates: November 16- November 28, 2016 Midnight CST
How to Enter: Enter through Giveaway Tools- just sign into the widget and click the entries you want to complete (comment, follow, or share).
Giveaway Terms:
Email will be kept private. Winner announced above in the Giveaway Tools widget on November 29, 2016. Winner will be selected randomly through Giveaway Tools and I will notify by email. Winner must respond within 4 days or the prize will be forfeited and alternate winner will be chosen.
Do you have family games to play at home?  Do you think Double Ditto would be a good party board game to have on hand?