Winter is fast approaching, and gone are the blissfully sunny days where you can just send the kids outside to play the second they start to get restless. Of course school keeps them busy for six hours, but what on earth are you going to do with them for the long dark evenings and wet weekends? Do you need some electronics free ideas for entertaining kids on a rainy day? Before you start to panic, don't worry it's going to be okay. Grab a cup of tea and take a read through these ten great activities to entertain kids on rainy days and keep kids amused this winter.
10 Activities to Entertain Kids on Rainy Days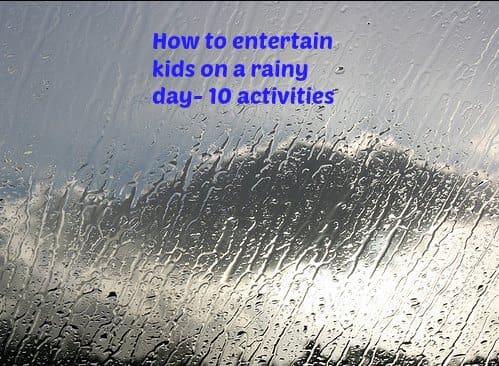 Collages
Making collages is a fun and an inexpensive way to get your kids thinking creatively. You don't need fancy papers or materials, simply cut up old magazines and newspapers, or find things like colorful leaves from the garden. You could even make use of those old clothes which have been sitting in the back of your wardrobe for years by tearing them into different shapes and patterns.
Dressing-Up
Kids love dressing-up, whether it's in Mum's high heels and Dad's briefcase, or as their favorite fictional character. Not only do you get the hilarity of how they look when they're done, but they can use these personas for make-believe games, which keep them entertained for hours.  You may want to go through your closet and give them some old things they can use to keep in a costume box.
Dens
Another great activity to entertain kids on rainy days is build a fort or den.  Everyone has childhood memories of making dens; there's just something so magical about creating your own hide-away space. You can make a den out of anything suitable you find in your house, but furniture and bed sheets are always successful. You could also make a cardboard fort.  Just be sure to layer the floor with pillows and blankets, and the kids can spend days inventing new ways to make use of their little home.
Baking
Getting messy is one of children's greatest talents, and what better way to make a mess than getting to eat the results at the end? Perhaps even use baking as a method to get your kids to try new foods. And it doesn't have to be unhealthy; there are some brilliant recipes out there which are both tasty and nutritious.  Baking with kids is fun!
Indoor Picnics
You could take the baking one step further and use the produce for an indoor picnic. Just because it's raining outside doesn't mean we have to give up picnics for another year. Plus, the prospect of eating somewhere other than the dining room table is always exciting.
Making Music
Arts and crafts are much more rewarding when the finished product has a practical use. Try making your own instruments by sticking elastic bands over an empty tissue box or filling a plastic bottle with dry pasta.  If you have real instruments try playing a simple piece together.  It can be a whole new experience and it is a great activity to entertain kids on rainy days.
Put on a Show
If the kids are feeling particularly inspired by the musical instruments or generally enjoy a song and dance, ask them to put on a show for you. They will spend hours rehearsing for it and will feel really proud after they've performed it. You never know, they might even have a hidden talent you didn't know about!
Indoor Obstacle Course
This is a perfect way to burn off all that excess energy and wear the kids out for bedtime. Be as creative as you can with this, using chairs, cushions, boxes, and anything else you can find around the house. However, you will need quite a bit of space to avoid any injuries.
Cardboard Box
Perhaps the simplest, yet most valuable activity of them all: give the kids a cardboard box (preferably a large one which they can sit inside) and let them turn it into whatever they want. The best one I've seen was a car, complete with a cut out door and all. It's an excellent way to stretch their imagination and creativity!
Printable Resources
There are thousands of free printable resources available on the internet, from coloring in, to games, to more educational activities. If there's a particular holiday coming up, such as Halloween, why not look for themed printable activities? You could get the kids to decorate the house with spooky pictures. Just make sure you have good quality printing supplies!
There really is no need to start tearing your hair out trying to think of ways to keep your children amused now that the bad weather is leaving them housebound. You'll often find that the most simple ideas and activities will be the ones which keep the children happy for hours.
Which of these ideas is your favorite for entertaining kids on a rainy day? Do you have any ideas to entertain kids on rainy days? Let us know in the comments.
Louise is a part-time writer and full-time mum who enjoys blogging about family life, pets and all things gardening.