Let your child's imagination run free with cardboard boxes!
My brother recently got some of his stuff out of self storage and he had some extra boxes that my kids got to play with.  They just love boxes!  Boxes of all sizes can be turned into all kinds of fun.  Shoe boxes can become little houses for their figurines.  They can really get creative and join boxes together to create tunnels, forts, and "castles."  If you give them access to boxes, kids seem to get all kinds of wild ideas!  You can also help stimulate the creative juices by providing some crafting supplies such as markers, crayons, masking tape, scissors (with supervision), yarn, and scrap paper, that they can use to decorate and make things even more exciting!  Not only do boxes give your child a cheap or free medium to imagine with, it also teaches them something about planning, decorating, and building.  You might want to let your kids run free and build whatever they like or you might want to jump in and help them for some real family fun!
Here, my kids made a little bowling alley out of a box: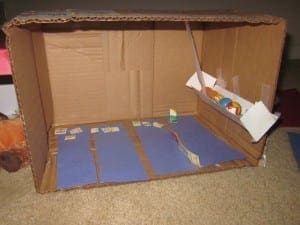 Little boxes can become treasure chest: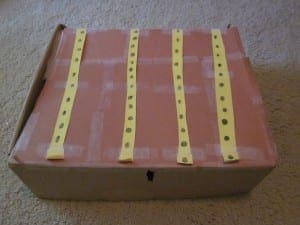 Even cats love cardboard boxes and my kids love pretending it is his house: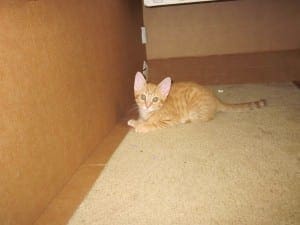 A bunch of small boxes can be organized into a doll house or stuffed animal hotel: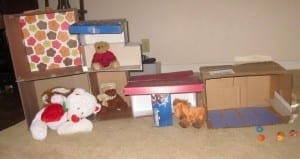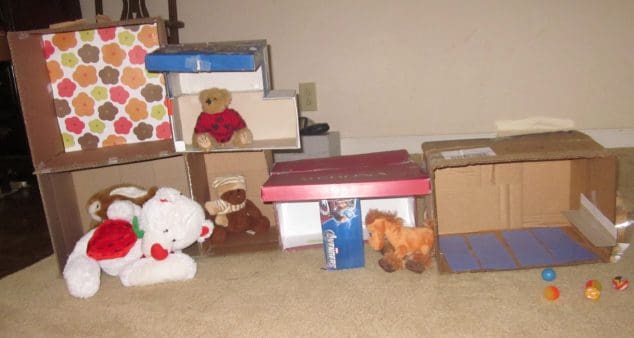 Here, my kids have made a puppet theater out of cardboard box:
These family fun cardboard box activities are a great way to reuse boxes and then when you have gotten bored of your creations you can always reuse them again to build something new or bring them to the recycling center.
What have you and/or your kids had fun building out of boxes?