I know what some of you might be thinking…Pumpkin + Chili?!?! Have I lost my mind?  That's about the reaction I got from my husband when I told him I was making chili for dinner (for guests) and sent him to the store for pumpkin.  He also announced to our dinner guests after I told them we were having Pumpkin Chili that "this could be an epic fail".  Thanks for your vote of confidence sweetie.  The dinner guests loved my Pumpkin Chili Soup and so did my husband and it's definitely a recipe we'll make again.  The unique flavor combination comes together for a perfect fall chili.
Pumpkin Chili Soup Recipe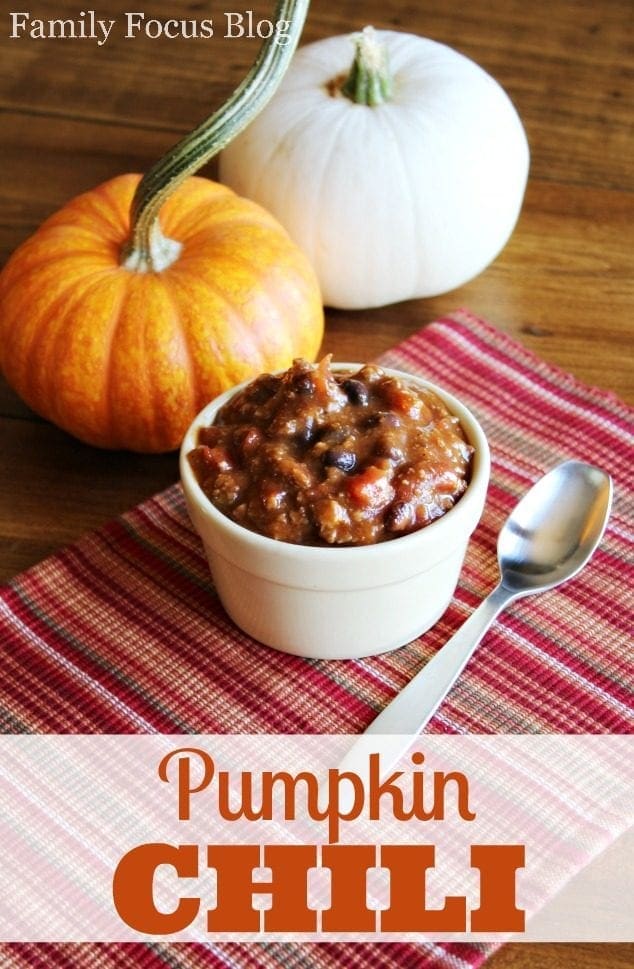 Ingredients:
3 lbs lean ground beef
30 ounces canned pumpkin puree
46 ounces vegetable juice
30 petite diced tomatoes
20 ounces diced tomatoes with green chilies
16 ounces black beans – drained and rinsed
40 ounces light red kidney beans – drained and rinsed
1 medium red onion – diced
chili powder to taste
cumin to taste
red pepper flakes to taste
garlic powder to taste
salt & pepper to taste
2 tsp cinnamon
1/2 tsp nutmeg
pinch of cloves
pinch of ginger
pinch of all spice
How To Make Pumpkin Chili Soup:
Brown the ground beef in a large skillet.  Drain and rinse and return to the pan.  Season with the chili powder, cumin, red pepper flakes, garlic powder, salt and pepper.
While the ground beef is browning, pour the pumpkin into a large stock pot.  Over a low heat, stir in the cinnamon, nutmeg, cloves, ginger, and all spice.  Add 1/2 of the vegetable juice and stir until smooth.
Add the diced tomatoes and the the beans to the pumpkin mixture.
Once the beef is cooked through and seasoned, add the diced onion and continue cooking until the onion is tender.
When the onion is tender add the beef to the tomato, bean, and pumpkin mixture.  Stir in the remaining vegetable juice and simmer over low/medium heat until you are ready to serve the pumpkin chili soup. You can serve as is or garnish with chopped chives, grated cheddar, and/or sour cream.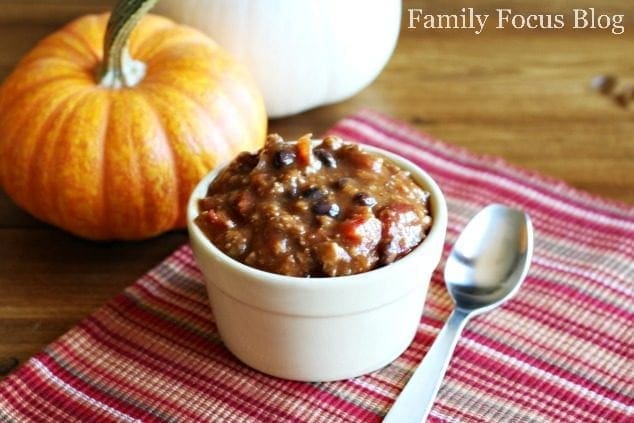 This would be pumpkin chili soup would be great to add to your Thanksgiving meal planning. Something easy to put in the slow cooker for the busy days before the holiday when there is so much cooking to do! I know that here in Michigan, November also means hunting season and this would be a great soup to have on hand for the hunters in your house.
Do you have a favorite, unique chili recipe?