As one of America's top Independent Real Estate Brokers with over 28 years of experience, Sissy Lappin has written a new book, SIMPLE and SOLD that will teach readers the ins and outs of the real-estate game.  The new Simple and Sold Book and DVD let you say good bye to the costly and old fashion way of selling your home.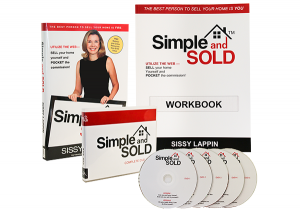 Simple and Sold: Sell Your Home Without Paying Commission
Simple and Sold is a simple, proven system to sell your home and not pay a commission!  It gives you the skill and know how to allow you to cut out the middle man and protect your equity in your home.  Simple and Sold teaches how to attract real buyers, not window shoppers and lets you in on secrets to using Social Media to attract buyers.
Simple and Sold walks you through how to…
Home Value price your home to sell based on actual, current home sales in your neighborhood, keeping you from starting too low or too high
Market your home in the best light, using hot-button words that draw buyers in and avoiding the phrases that keep buyers away
Stage your home to maximize appeal and minimize turnoffs
Negotiate to get you to the close, with everyone walking away happy
"I started this program for people with absolutely no experience.  Though many Americans overlook this reality, the real estate commission is usually more than their equity in the home… The homeowner needs a viable choice. Instead of just talking about this problem, I wrote Simple and Sold in order to encourage the average homebuyer to weigh their options. If they choose to sell their homes without a real estate agent, I want them to know how. The book details this process." -Author, Sissy Lappin
Using the SIMPLE & SOLD method, you'll be able to organize your listing, maximize your pricing and create a plan for selling that meets your personal and financial needs.
Simple and Sold Discount Code:
While you can buy Simple and Sold from the regular sources such as Amazon, I would recommend that you buy the book from simpleandsold.com because they offer free shipping! Also, for a limited time, you can receive a 25% off discount on all Simple and Sold products if you use the discount promotion code "focus."
$50 VISA Gift Card Giveaway:
Sissy Lapping wants to celebrate the success of her new book Simple and Sold by giving one of my lucky readers one $50 Visa Gift Card.
Visa Gift Card Giveaway Dates:  November 6- November 20, 2012 Midnight CST
How to Enter:  Enter through rafflecopter- just sign into the widget and click the entries you want to complete.
Giveaway Details:
Open USA and Canada, age 18+ to enter. Winner announced right here on November 21, 2012.  I will select the winner through rafflecopter and notify by email. Winner must respond within 4 days or the prize will be forfeited. Your email will not be shown and will be kept private.