This organic baby and toddler food discussion is sponsored by Sprout Organic Foods– wholesome and organic baby and toddler food products developed by Chef Tyler Florence.
You are probably familiar with Sprout as a premium line of organic baby food. Sprout recipes feature tasty combinations of wholesome ingredients that are indeed like no others as they are chef-inspired, delivering gourmet flavor. Sprout's unique recipes are designed to nourish your child's growth and encourage a love of healthy foods right from the start.
What began as a select group of baby food recipes has now expanded to include a variety of delicious and organic options for every baby stage with increasing options for toddlers.  In March of 2012, Sprout branched out from baby food to launch Toddler Meals in 8 delicious varieties, then Toddler Purees and now they are introducing Sprout Toddler Snacks!
Sprout Coupon Code
You can view the whole line of Sprout Organic Foods and you can use this Sprout coupon code to get $1 off your purchase of Sprout Toddler snacks!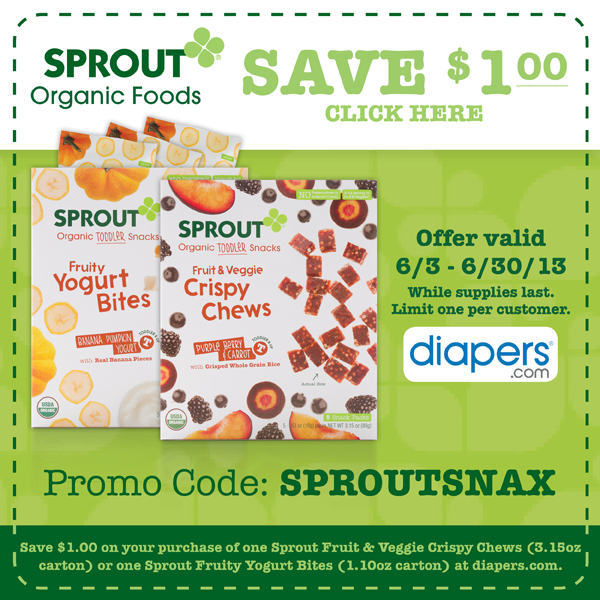 Sprout Organic Foods Toddler Snacks
You want to know a little more about these new toddler snacks from Sprout?  Well then, you are in luck because I was provided with some samples for my kids to try so I can share their opinions with you.  Sprout Crispy Chews come in four flavors. The Sprout Crispy Chews are the perfect size for little fingers learning to pick up and self feed but my school age kids love them too and I will be popping a few in their lunch boxes for snack time this year.  I like that the Sprout Crispy Chews have no added sugar, no  additives or preservatives, no artificial colors or flavors, and are a natural source of Vitamins A and C.  Plus, of course, I love that they are organic.

The Sprout Yogurt Bites also come in 4 great varieties.  I have to tell you that not only do my kids like these, I have been know to eat some myself!  I can't help it- I love freeze dried fruit and the soft quick-dissolve texture.  I love the simple ingredients and yet the clever flavor combinations.  For example, here are the Banana Pumpkin Yogurt Bite ingredients- Organic Banana, Organic Apple, Organic Carrot Juice Concentrate, Organic Skim Milk Yogurt, and Organic Pumpkin Puree.  All good stuff.  I also like that the Sprout Yogurt Bites have no added sugar, no  additives or preservatives, and no artificial colors or flavors.  That is really important to me!

Here are my kids chowing down on their Sprout Toddler snacks!
Visit  Sprout Organic Foods to see their whole product line.  You may also want to be social with Sprout:
– Like Sprout on Facebook
– Follow Sprout on Pinterest
– Follow and Tweet @SproutFoods
– Follow Sprout on Instagram
What is your favorite Sprout Organic Food product?