Leonardo Ramirez Releases The Jupiter Chronicles Science Fiction Children's Book Series
Today, I am very pleased to introduce you to a local Science Fiction Author, Leonardo Ramirez, who is releasing a new Science Fiction Children's Book- The Jupiter Chronicles: The Secret of the Great Red Spot.  This is actually Book One of a the new Steampunk Children's Series written by Leonardo Ramirez.    This science fiction childrens' book chapter series is most suited for children in grades 2 and up.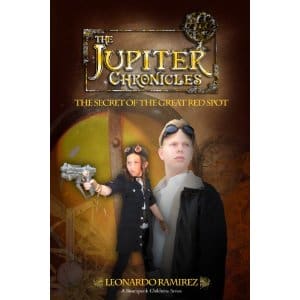 What are The Jupiter Chronicles About?
Ian and Callie Castillo have had to suffer the hardships of a single parent family since their father went missing five years ago. Since then Ian has refused to use the last gift that his father left the wounded boy; a telescope that sits collecting dust in the attic. When Callie decides to peer through its murky lens, it activates the device and sends the Castillos to the steam-powered floating cities of Jupiter to rescue their father and save the Jovians before the Martians launch their attack.   The answer to their freedom lies within the Great Spot and it's up to Ian and Callie to uncover its secret!
Pre-order your paperback copy of  The Jupiter Chronicles: The Secret of the Great Red Spot today!
Every book Leonardo Ramirez writes has a purpose-

"In Jupiter Chronicles, [the purpose is] to help identify with kids who have grown up without a dad like I did.  That's reality meeting the written word in an effort to learn something about ourselves and how we deal with life." 
The Jupiter Chronicles: The Secret of the Great Red Spot Reviews:
"Ramirez expertly captures the banter of two siblings as they struggle to save Jupiter from the evil emperor. In this fast-paced steampunk adventure, he touches on the grief children experience over an absent parent and their feelings of helplessness. Ian and Callie find strength within themselves to overcome their fears and their differences to fight the real enemy."  ~Ann Wilkes – Science Fiction and Other Oddyseys
"Mr. Ramirez demonstrates he has truly found his talent and voice with this incredibly well-crafted book. This is the kind of book that gets the imagination moving at any age, making it perfect for children." –Catrina Taylor, Xarrok Recommends
The Jupiter Chronicles: The Secret of the Great Red Spot Children's Book Giveaway Details-
One lucky reader will win one autographed paperback copy of the sci-fi children's book- The Jupiter Chronicles: The Secret of the Great Red Spot.
Book Giveaway Dates:  June 26- July 17, 2012 Midnight CST
How to Enter:
Do any one or more of the following and post a comment below about each action you took. Each comment will count as a separate entry so your chances of winning increase- limit of 4 entries per person since there are only 4 actions.
1.   Visit  http://leonardoverse.com and leave a comment with something that catches your eye
2.   Like the Steampunk, Sci-Fi Adenture Children's Book Series, Jupiter Chronicles on Facebook
3.   Follow @Leonardoverse on Twitter
4.  Use the Retweet button or Tweet and leave URL:
Enter to #win Jupiter Chronicles Sci-Fi #Kids #Book #Giveaway http://familyfocusblog.com @familyfocusblog @leonardoverse
Giveaway Rules:
Open USA,  age 18+ to enter. Winner announced right here on July 18, 2012. Thanks for entering and good luck! I will select the winner through random.org and notify by email. Winner must respond within 5 days or the prize will be forfeited.  Your email will not be shown and will be kept private. Not responsible for prizes lost in shipment.  NO PURCHASE NECESSARY AND VOID WHERE PROHIBITED BY LAW.
GIVEAWAY IS NOW CLOSED- WINNER IS #22, Karen Gonyea