Voots Veggie-Fruit Tarts are a children's dietary supplement made from 11 real fruits and vegetables, which are dehydrated, crushed, blended with Vitamin C and other ingredients, and made into chewable berry-flavored tarts. The daily serving of Voots contains the Vitamin C antioxidant power of three full servings of fruits and veggies!*
Voots Review: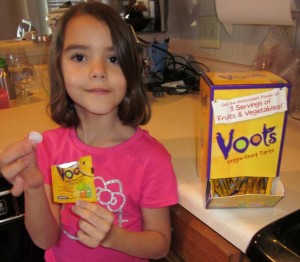 Voots are basically tart but sweet tasting tablets that the kids can easily chew up.  Voots come in a serving of two tablets per package.  My kids love the Voots.  I pack them in their lunch box.  My kids think of Voots as dessert and I think of them as help in getting enough fruit and veggies into them each day.  Something I love about Voots- there are no artificial colors, flavors or preservatives!
Voots Veggie-Fruit Tarts will be available at select retailers nationwide and you may want to use the Voots store locator or Voots Supplements are also available for purchase at amazon.com  If you like discounts (and who doesn't), I also noticed that you can print a $2 off coupon at the moment on Voots Facebook Page!
Voots Veggie-Fruit Tarts Giveaway:
To celebrate the launch of Voots supplements and welcome this delicious and nutritious product to the market, Voots is offering a Voots Veggie-Fruit Tarts Prize Pack to one of my lucky readers.
The Voots Prize Pack, valued at more than $30 includes:
An adorable t-shirt featuring the Voots brand fruit and veggie characters

A reusable lunch bag to help pack up those healthy meals for your kids as they head back to class

A pencil sharpener to keep writing utensils in tip-top shape

A magnet and picture frame that can be posted around your favorite photo on the fridge

A temporary tattoo that your child can wear in pride

And… a 45-day supply of Voots Veggie-Fruit Tarts!
Voots Giveaway Dates:  December 3- December 17, 2012 Midnight CST
How to Enter: Enter through rafflecopter- just sign into the widget and click the entries you want to complete.
Giveaway Details:
Open USA, age 18+ to enter. Winner announced right here on December 18, 2012. I will select the winner through rafflecopter and notify by email. Winner must respond within 4 days or the prize will be forfeited. Your email will not be shown and will be kept private.
I did receive Voots in the hopes that I would share my honest opinions.  I received no monetary compensation and the opinions expressed are my own.
*Voots supplements contain 60 mg Vitamin C per serving. The average Vitamin C content of the top 20 most commonly consumed fruits and top 20 most commonly consumed vegetables is 19 mg per serving, for a total of 58 mg per three servings. Voots supplements are not intended to replace your daily intake of fruits and vegetables, which are important sources of fiber and additional nutrients.  The product is not intended to diagnose, treat, cure or prevent any diseases.