Texting while driving is simply dangerous. More and more research emerges every year that puts text messaging while driving as an increasing danger. This is a problem, especially for teenagers who are new drivers.  They've grown up with a cell phone in their hands, and texting is their preferred method of communication. Even more than talking on a cell phone, texting while driving poses a real threat to your teenagers. Yet, how do you stop teenagers from texting while driving? Sure, you can talk to them about the risks, but when you're 16 or 17, you feel like you're immortal. Simply knowing that there are risks isn't a deterrent for many kids.
To further complicate things, texting is such an ingrained thing for many teenagers that they almost never unplug from the cellular network.  They even sleep with their phones.   There are some tools and methods you can use that will stop your teenagers from texting while driving and that may, in the end, safe their lives.
How to Stop Your Teens from Texting While Driving: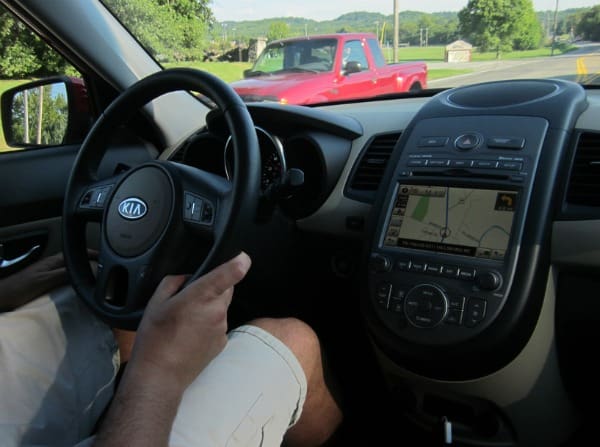 Prevention apps.
There are apps that prevent teens from texting while driving! They use the phone's GPS signal to detect when the car is in motion, and they cut off access to the cellular network during those times. These apps aren't available on all phones, of course. There are apps for iPhone, Android, and Blackberry, but you'll be harder pressed to find a solution for a standard cell phone. They also don't prevent the person from texting while at a stoplight, which can be just as dangerous and distracting.
Reward apps.
There are also apps that track whether or not a phone is being used when the car is in motion, and send you a report. These apps can be used to reward your children for following the rules of safe driving. You might set up a system whereby a certain number of text-free trips results in extra time or use of the car, or even a boost in their allowance.
Parental controls from your cell phone service provider.
Most of the major cell phone providers offer you a variety of parental control options.  Usually this is in the form of allowing or denying text or calls during certain times of day or to certain people. At the very least, you could set up a rule that prevents them from texting during the time of day when they're usually driving to school, work, or wherever there regular schedule takes them.
Stick shift.
Another way to keep kids' fingers off their phones and focused on driving is to let them drive a car with a manual transmission. When you're driving a stick shift, you have to keep both hands busy, especially when driving through town. They won't pick up the phone, because they know if they do they can't stop at the stoplight ahead.
Vehicle based cell phone blockers.
There are a number of devices that connect with your car's on-board systems to detect when the vehicle is in motion. Some of these product then send off a cell phone blocking signal, preventing your child's phone from connecting to the cellular network. They might try to send a text, but it just won't work.
Text to speech apps.
This may not be the ideal solution, but it can work for some teens. Text to speech apps allow the user to create and read text messages audibly. The Siri app on the iPhone 4s is one iteration of this kind of technology, but there are similar apps on the market for other devices, as well. It still offers a certain level of distraction, just not as much distraction as texting itself offers.
Lead by example.
One of the best ways to encourage safe driving habits of any sort is to set a good example for your teen drivers. Just because you're an adult who's been driving for 25 years and haven't had an accident since college doesn't mean it's safe for you to text. If she sees you texting, her teenage mind is going to convince itself that it's OK for her to text, too. This is perhaps your most powerful tool.
Texting and driving is proving to be extremely dangerous. As time goes on, we're seeing more and more statistics that prove this fact.  Encourage your kids to drive safely, and consider some of these solutions to help monitor and control their texting activity when you're not in the car with them.
Greg Muender is President of Ticket Kick, a California company that helps drivers get red light tickets, speeding tickets, and other driving tickets dismissed by helping drivers through the trial by written declaration process. The company, which formally launched in 2010, has been providing similar services since 2006 and is the leading company in this industry and growing rapidly. If you think you got an unfair driving ticket, Ticket Kick is a powerful online resource for fighting traffic tickets.