With Valentine's Day approaching, you will more than likely receive a flower arrangement by a loved one. Everyone loves flowers and the aromatic, energetic ambiance they add to any room. There are many online florists to choose from. Finding one that offers wholesale prices and free shipping, such as GlobalRose.com, will help you save money. But make sure they have great selections. After all, you don't need a holiday or special occasion to receive flowers, and you will want to be able to order them as desired. By having flowers in the home year around, you are adding nature's architectural masterpieces into your home's décor for a Zen feel. But you always hear people expressing sadness that their flowers can't last a lifetime, and in just a few weeks they wind up in the trash. This doesn't have to be the case. This article will explore ways in which you and your kids can craft together to make your flowers live for years.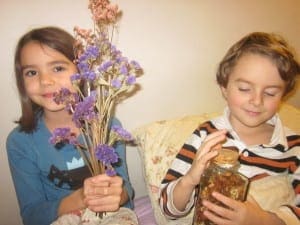 Flower Crafts:
Oh the Smell of Flowers
We all love the scent of flowers. Rest assure that when they are on their last days, you can resurrect them. Turning your dried flowers into potpourri will extend their use towards multiple purposes that include the following:
Satchels for the dresser to scent your clothing
Satchels under the car seat
Left in decorative bowls to give the bathroom a nice scent
Perfect for little gifts
Satchels in your pillow for a soothing sleep
Scatter it in house plants
Customize Your Potpourri
By making your own potpourri, you and your kids can work together to craft a mixture that suits special occasions, holidays, seasons, a particular room, or even a particular individual. For example, if Grandma is fond of lavender, then you and the kids can make her a customized scented gift to appeal to her individuality.
Potpourri has its general ingredients, but ultimately it can be customized to an individual's likings. Here is a list of things the typical potpourri mixture requires:
Dried flowers
Orris root
Calamus root
Angelica root
Frankincense
Oak moss
Vanilla Beans
Essential oils (like jasmine or rose)
Once you have made a few batches of potpourri, you and your kids will start to develop a feel for tweaking the recipe to make it just right for your liking. Also, there are hundreds of recipes online to aid you if ideas are running thin.
The seasons, however, can help you determine scents. For example, in the winder months you can focus on scents of pine and mulberry. As spring arrives try a more floral variety with dried roses and pansies. And when autumn creeps in, utilize rich spices like nutmeg, pumpkin, and anise that capture the spirit of Thanksgiving.
Nurture the Creativity in your Kids
Providing an environment where kids are encouraged to express themselves creatively is vital to good parenting. In an article published by She Knows Parenting, the author says that by turning off the TV and brainstorming on an arts and crafts project, you are nurturing your kids and helping them to become creative, intelligent people. Potpourri is a craft that has thousands of different recipes. By brainstorming with your kids on what ingredients to use, how to display the results, and where to put them to good use, you are involving your child in both creative and practical decision-makings. Through your creative little ones, you can let those dried flowers live on.
Guest post by freelance writer Al Stef. @GlobalRoses @sheknows