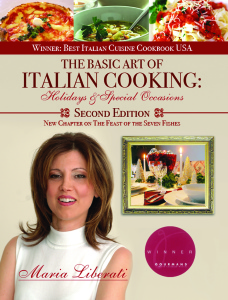 Celebrity Chef/Award Winning Author-Maria Liberati shares a few of her Holiday traditions in her award winning book The Basic Art of Italian Cooking: Holidays & Special Occasions. The book was selected for the prestigious Gourmand World Cookbook Awards. The book includes recipes but also charming stories about Holidays spent at her country farm in the mountains of Italy and her family traditions. Today she will share with us a tuna pasta recipe.
Maria Liberati Shares a Holiday Tradition
Here is an except taken from the book on The Art of Christmas Dinner-

EACH [CHRISTMAS EVE DINNER] IS A SPECIAL MEMORY IN ITS OWN SPECIAL CHAPTER IN MY "MEMORY BOOK" MADE UP OF IMPORTANT INGREDIENTS: GOOD FOOD, FAMILY, AND FRIENDS.
T.S. Arthur once wrote: "There is a book of record in your mind, in which every act of your life is noted down. Each morning a blank page is turned, on which the day's history is written in lines that cannot be effaced. This book of record is your memory; and, ac cording to what it bears, will your future be happy or miserable. An act is done, is done forever; for, the time in which it is done, in passing, passes to return no more. The history is written and sealed up. Nothing can ever blot it out."
         I try to remember this at each Christmas Eve dinner. Each one is a special memory in its own special chapter in my "memory book" made up of important ingredients: good food, family, and friends. In Italian, we have a saying: "Natale con I tuoi." It means that Christmas should be spent with family and those whom you love.
Christmas Eve dinner begins a few days before it is actually eaten. Shopping for fresh fish at the Italian Market in Philadelphia is always an event in itself. My mother and aunt have a knack for choosing the best and freshest fish. They had a great teacher—their mother.
         Early on Christmas Eve morning, the preparation of the fish begins. Nothing comes out of the family kitchen that wasn't freshly prepared by family members.
 By the time 3:00 p.m. arrives, the kitchen is all aflutter with activity. The oven is baking and the stove is filled with many pots a–brewing. Sauces are being made, fish is being fried and sautéed, and everything is filling the air with a wonder ful aroma. Inevitably, someone always yells out, "What do you think, should it stay a little longer?" and at least five of the family cooks run over to make their call.
         On the other side of the kitchen table, the freshly breaded and lightly fired smells have just arrived, and the food will be finished before any of the cooks can attempt to taste it. But no fear, as in all Italian feasts there are plenty more where that came from and no shortage of cooks willing to fry up a fresh batch.
In different parts of the house, hugs and kisses are still being exchanged with ar riving guests who quickly follow their noses to have a taste at of what's being brought to the kitchen table.
         After everyone has settled in, all of a sudden things become quiet, like in between acts at an opera. We are now waiting for our second act—dinner. The quiet is soon bro ken by the sound of wine bottles popping open and the first "Saluti!" Glasses filled with our favorite family wine, Montepulciano d'Abruzzo, clink together, and the opera con tinues with a symphony of dishes being passed around, and new and old memories being shared.
Maria Liberati was also kind enough to share with us a recipe from her book as well!  I think it is a great Italian dish and a little different from what we normally have in America.  I had something on the same theme in Italy because I was suprised to see it on the menu and just had to taste it to see how it could be popular- Tuna and Onion Pizza, delicous!
A Delicious Tuna Pasta Recipe: Farfalle con Tonno Recipe (Bow Tie Pasta with Tuna)
First Course
3 tablespoons extra virgin olive oil
Juice from 1 lemon
Pinch of salt and black pepper
1 garlic clove
8 ounces tuna in olive oil
1 pound farfalle pasta
2 tablespoons chopped parsley
In a small bowl and with wire whisk, mix together olive oil, lemon juice, and pinch of salt and pepper. Cut garlic clove in half, and rub on bottom of large salad bowl. Flake tuna in a separate dish.
Boil pasta until al dente. Drain. Place in large salad bowl and top with dressing and flaked tuna. Toss. Serve with chopped parsley on top.
I hope you enjoy this tuna pasta recipe! My daughter just loves it!
For more great recipes or to order her book, check out Maria Liberati's website.