Cuboro is a brand of marble track system that is really unique and very clever.  Cuboro is based on sustainable wooden blocks that have tunnels bored through them and/or on top of them in different areas so that they can be placed together to create a marble run.  My kids have been enjoying their Cuboro Standard Wooden Marble Run and Cugolino Set for three years now and they are actually enjoying it more than ever.  As they get older and as they play with it more, they learn to build even cooler creations and they are always combining the blocks in new ways so they never get bored.
Interesting Facts About Cuboro Marble Track Set
Cuboro was developed in 1976 by Matthias Etter when working with special-needs schoolchildren. Cuboro became available as  a family game in 1985 with twelve basic elements . The Cuboro Standard Wooden Marble Run has 54 blocks and these blocks over 12 different functions- meaning these Cuboro blocks offer different abilities such as a tunnel straight through, or a tunnel that will channel the marble down, etc.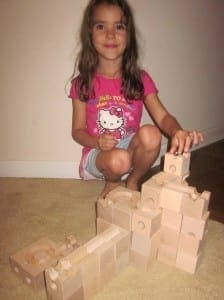 Many Uses of Cuboro Marble Tack Set
Besides winning several awards and a large community of players, Cuboro also gradually gained attention as a comparative system. Thus, today, cuboro is not "only" played for pleasure, but is also used as teaching material, in scientific studies on spatial imagination, in occupational therapy, in team trainings, for aptitude tests, in promotional concepts, in theme parks and for championships!
Cuboro As A Fun, Educational Toy
The Cuboro wooden marble track set run keeps my kids occupied building, testing, and rebuilding for long periods of time.   Cuboro allows for endless combinations and designs, spurring both the imagination and the problem-solving capabilities of children.  Because Cuboro can be played with at the level of the player, it can be enjoyed by kids and adults as each builds something to his level- so Cuboro is a great toy for family play!  It is also a toy that holds up well to use and my three year old set still looks as good as new.  I plan on keeping this set always and passing it down to my grandchildren- it is that kind of toy!
Why buy it?  Part marble run, part puzzle and part developmental and educational marvel, Cuboro is truly a toy which children will come back to time and again over days and years as they grow and become more sophisticated about their creations.
Here is my son testing a Cuboro creation we built together!
Brought to you by Oh! Toys