A brand new set, the Cugolino Starter set has just been introduced to the Cuburo Cugolino line up. The Cuboro Cugolino Wooden Marble Track system is truly a special toy that is great for your child's development in so many ways.  This award-winning toy from Switzerland is comprised of various beech blocks made of FSC certified wood (environmentally friendly sustainable resource) that allow the child to build simple or complex marble runs.  Cuboro Cugolino blocks have pathways for the marbles etched into their surface and/or running through them. By combing several different Cuburo Cugolino wooden marble track sets, the blocks can be arranged in endless ways to create all kinds of fun marble runs with unexpected functions. This toy feature is sponsored by Oh! Toys.
5 Cuboro Cugolino Wooden Marble Track Sets
Part of what makes a Cuboro Cugolino set such a great toy for children is that they can build a 3D world, explore the world of physics, and discover cause and effect. Cugolino teaches kids to plan, build, and observe. It builds confidence and encourages creativity. Kids can continue to grow their cognitive development and use new skills as they get older to create even more elaborate designs by adding a new Cuboro Cugolino set. Here are five sets starting with with two basic set options (the including the newest Cugolino Start Set) and then proceeding to three add on sets.
1. Cuboro Cugolino Start
This a brand new Cuboro Cugolino starter set that has just been introduced. It does not include the colorful blocks that the Cuboro Cugolino Marble Maze has but it has 27 Cugolino elements with 17 different functions and 6 Marbles so plenty to get your child started learning about spatial relationships, kinetic movement, and the joy of watching the marble work its way through their creation.
2. Cuboro Cugolino Marble Maze
This was the original Cuboro Cugolino starter set. Suitable for children from 3 years up, the set contains 37 Cugolino elements, with 19 different functions, and 6 Cuboro marbles. It is everything your child needs to get started building and exploring marble runs.
3. Cugolino Pop
The Cugolino Pop add on set adds bounce to the Cuboro and Cugolino marble track sets. By using hard rubber "trampolines", marbles can bounce over obstacles.
4. Cugolino Magic
Cugolino Magic adds cleverly concealed magnets to the blocks that allow "magic" new possibilities such as unsupported bridges.
5. Cugolino Sub
Cugolino Sub includes new "cut-rail" bridging elements and half-blocks that add to the fun allowing for longer courses and tunnels.
Then, just when you think your kids have mastered Cugolino (will this ever happen?) you can get a Cuboro set that they can use to build together with the Cugolino for even more incredible creations!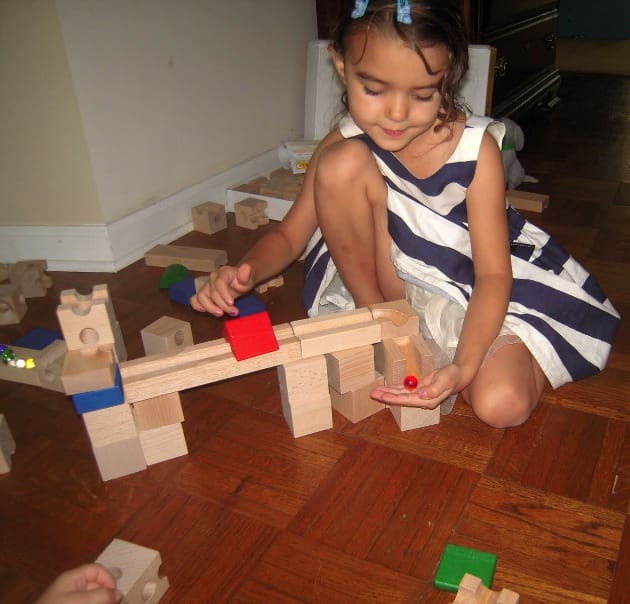 I have fun playing Cuboro Cugolino with my kids and getting to see how they think and show them some of what I can imagine too!  I always feel immense pride when they drop the marble and I can watch it roll through something that they designed. I know our Cuboro Cugolino set will be something that they will keep and pass onto their kids because they love it so much and because it is so durable.  We have had them for several years and they still look brand new even with all the use.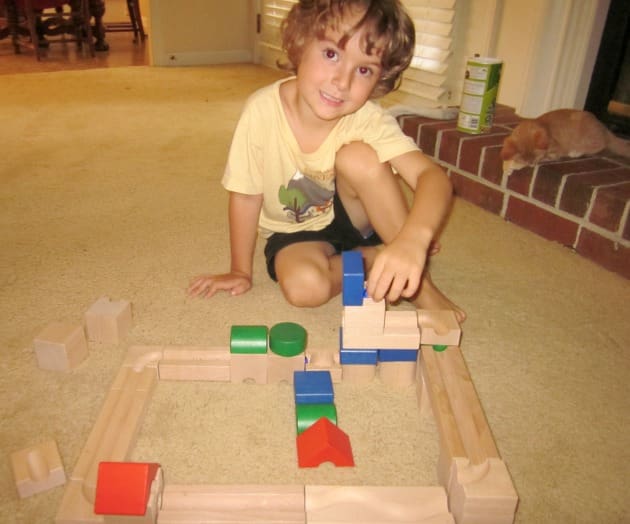 Learn more or order at Oh Toys. Use Oh Toys Coupon Code FFB0316 for a 10% discount! My kids love the Cuboro Cugolino marble track sets. Do you think your kids would like them?