Many of my friends try, each year, to get their family to spend more time in the backyard. And each year they fail. It's easy to stay inside the house, watching TV, surfing the Internet and speaking on the phone with friends and family. But with the right strategies, you can get your family to bond in the backyard this summer. There are so many family activities for summer– make sure you enjoy the outdoors together.
Tips To Help Your Family Enjoy More Backyard Time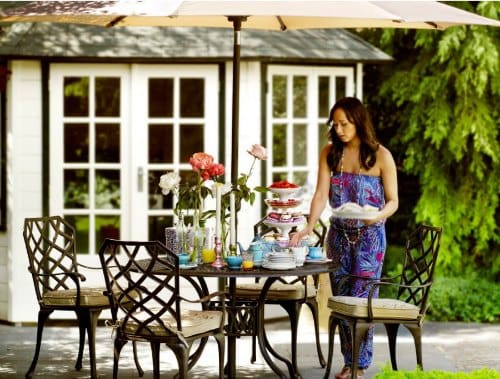 Make Your Backyard Comfortable
The first step is to make sure you have the right backyard furniture. You need to make your backyard a welcoming and inviting space, which you're never going to achieve if people are left sitting on wobbly plastic chairs. Invest in making your backyard comfortable, and you'll be halfway to making it an extension of your living space. You may want to try some of these DIY Pallet ideas for making your backyard cozy.
Make Your Backyard Accessible
Many people make the mistake of making it too difficult to sit in the backyard. If someone needs to go and get a key and open the door, they're going to feel less tempted to go outside. So, leave the door open, and consider getting glass doors that make your outside feel more like it's part of your home. If you don't like the idea of leaving the door open, you could even consider leaving the key inside the door, and that helps to reduce the amount of friction involved in going outside. Even just making sure the shades are drawn so everyone can see how pretty it is outside may help get them to go enjoy the backyard.
Provide Backyard Snacks and Reading Materials
People like to sit outside and drink orange juice, a cold beer or a glass of wine. You can use this to your advantage. Leave a cooler with some drinks and snacks lying outside, and people will go outside, get a bite to eat and a drink, and they will be tempted to sit outside.
Plan Backyard Entertainment
If you also have reading materials – like books and magazines – people won't feel the need to go back into the house to be entertained.  It's nice if your family can all sit together and read books and magazines, but it's even better if you can get your family to spend some quality time together and really enjoy each other's company. To make this happen, try to play some water games if it is a hot day. If everyone has a lot of fun, they are more likely to want to participate next time you suggest hanging out in the backyard.
A game of soccer or football can work great. Cornhole is also a really fun yard game to play.  If you have younger children and a big enough backyard, you could also consider organizing a treasure hunt. Just make sure your children stay inside and can't see where you've hidden everything!
Many people make the mistake of thinking that family games in the backyard are all about jumping around and getting tired, but they don't have to be. A classic board game like Monopoly could work perfectly. Whatever it takes, just get outside and enjoy some sun and fresh air!