As childhood obesity continues to affect today's youth, many parents are looking for ways to help their children make smart choices when eating. Great snacks don't have to break the bank, nor do they have to be bland and tasteless. Instead, try some of these ideas to give your child the nutrients and energy their growing bodies need and help them develop healthy eating habits for life.
Healthy and Inexpensive Snacks for your Kids:
Fruits and Vegetables Snacks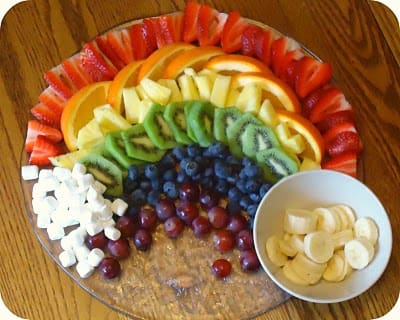 Fresh fruits and vegetables are recommended and classic for a reason: not only are they healthy, but kids can generally eat as much as they please without overloading on fat and empty calories. If your child is more of a picky eater and simply refuses to eat fruits and vegetables plain, spruce them up a bit with peanut butter, ranch dressing, or a sprinkle of salt or sugar. Just a pinch of salt on apple slices gives the apple pulp a pleasing gritty texture, while a very small amount of sugar or whipped cream over sliced strawberries makes for a fantastic sweet treat.
Homemade Trail Mix Snack
Combine as many or as few types of nuts as you like (almonds, peanuts, walnuts, cashews) with dried fruit like raisins or dates. Add in some pumpkin and sunflower seeds and some miniature pretzels for the perfect combination of salty/sweet snacks. It's healthy, delicious, and can be quite inexpensive if you buy the ingredients in bulk and make it yourself.  Here is a recipe for homemade trail mix.
Miniature Pizza Snacks
Use a can of low-fat biscuit dough or slice small bagels in half. Spread lightly with pizza sauce, low-fat shredded cheese, and top with a slice of pepperoni or chicken breast. Heat in the oven for about 8-10 minutes or until the cheese melts and the "pizzas" are slightly browned on the bottom, then just remove, allow to cool and serve. Kids love these child-sized snacks, and best of all, you can make up a large batch, freeze them, and then just pop them into the microwave later in the week for a quick, easy after-school snack.
Apple Cinnamon Toast Snack
This one's sure to be a hit with your little one's sweet tooth! You'll need one large apple cut into thin slices, four slices of whole wheat or honey wheat bread, butter, cinnamon, and brown sugar (optional). Spread a small amount of butter on the bread, top with one or two apple slices, sprinkle about a quarter tablespoon of cinnamon powder and brown sugar on top, then place on a baking sheet and bake in the oven for 2-5 minutes or until the bread begins to brown.  Alternatively, you can skip the bread and the heating entirely; just sprinkle a little cinnamon and brown sugar over apple slices for crispy and sweet treats.
Bite-Size Turkey Wrap Snacks
For this one you'll need a couple flour tortillas, a little lettuce (shredded or whole, though leaf lettuce will be easier to work with), a couple thin slices of turkey breast, a tomato, a carrot (or a bag of shredded carrot strips) and a tablespoon or two of cream cheese. Spread the cream cheese evenly over the tortillas, then sprinkle with lettuce. Layer the turkey slices next. Cut the tomato into small, thin slices, and the carrot into small strips, then add these on top of the turkey. Roll the tortillas into wraps, cut diagonally into small portions, and spear through with a toothpick to hold the wraps in place. Serve with ranch dressing or whatever dip you like. These bite-sized wraps are perfect for tiny hands, and they're substantial enough to serve individually as snacks or in multiples as a hearty lunch.
Don't be afraid to experiment. Though many kids are picky eaters, others are just as willing to try new things, and even picky eaters can get excited about fun new snacks. If you can, ask your child to help you choose or make their snacks. Let them know they can have as many vegetables as they want, even if you wouldn't dream of certain combinations for yourself (lettuce, peanut butter and raisin sandwiches, anyone?). There is no right or wrong way to encourage your child to make healthy food choices, so long as you make the effort to guide them in that direction.