Almost everyone was bullied as a child at least to some degree.  It is am important life skill to learn to deal with bullying and books are a great way to introduce the subject to children.  Books open up a idea to children and let them look at a topic in a safe way that is removed from themselves.  Kids then have the benefit of being introduced to the idea that bullying can happen and some possible outcomes.  Alternatively, if a child has been bullied, a book on bullying can let them see they aren't the only one.  Such a book can let your child ask questions and about the characters and the actions and open up a dialogue.  That is why I think that Gerry Renert's newest kid's book NATHAN AND THE REALLY BIG BULLY would be a great addition to any bookshelf!
A Children's Book About Bullying By Gerry Renert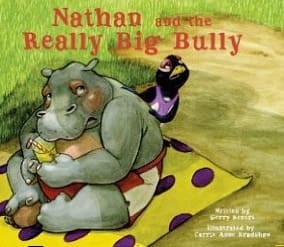 Nathan and The Really Big Bully: The story of a hyena who enjoys bullying a penguin by splashing him. The penguin turns to Nathan who advises him the worst thing to do is to strike back. Nathan ends up being harassed by an elephant and becomes very angry. Will Nathan be a good role model for the penguin or will Nathan's anger get the best of him?
Nathan and The Really Big Bully
Nathan and The Really Big Bullly was Winner of the 2012 Mom' Choice Gold Picture Book Award in the Category of:  Developing Social Skills!
It seems to me that a kids book on bullying is useful for every child as a conversation starter so that they are not caught unaware when it happens to them. Part of the deepest pain of bullying, (in my unprofessional opinion), is thinking that it is personal and for this reason, I honestly believe that reading a book or books on this topic with your child, can save them a lot of hurt. Nathan and The Really Big Bully won a Mom's Choice Gold Award in the category of "Developing Social Skills," and you can learn a little about it on Amazon, my affiliate link below:
I received no monetary compensation and all opinions expressed are my own.