Sometimes kids' rooms might look a little bit as a disaster to parents, as if a hurricane went through and left a chaos behind. As much as this looks fine to the children, a disorder is not the kind of thing that decent parents will neglect for long. The trick is to make the child want to have a clean room.  This might take some thinking over in order to have the right strategy that will lead to the desired result, which is a tidy kids' room, of course. De-cluttering might not look like the hardest thing in the world to do, but you have to teach your child to do it on his/her own as a part of the process of upbringing. Discipline has to be thought at a young age. This will be helpful for your child in the future. Organization is not all about de-cluttering, though. It's also about arranging the room according to your child's needs, having in mind their perspective.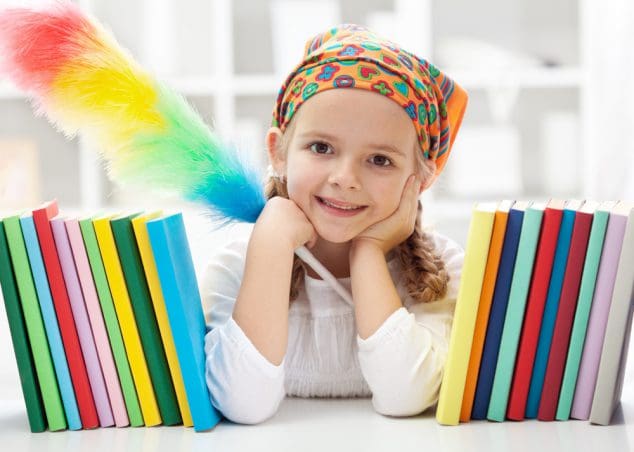 How to Teach Your Kids To Organize Their Room:
Put Yourself in Your Kid's Shoes
By doing so, you'll be able to better understand your child's world, the way children look at things – literally. As kids are much shorter, having a look around the room from their eye level will be a good thing to do. Some of the objects will seem huge and hard to reach. This shouldn't come as a surprise but you'll be astonished at the way things look from down there anyway. You've been a child too, but you probably hardly remember these early ages of your life. The issues you'll find are many: adult hangers don't fit kid's clothes; the hanging rod in the closet is just too high; the doors of the folding closet might pinch the fingers of your kid; small hands have difficulties managing sticky dresser drawers. All of this should be taken into consideration when organizing your child's room. The problems above have simple solutions what require just a little adjustment, like lowering the closet rod, removing the closet doors, and so on. This is done for your kid's convenience.
Involve Your Child in the Organizational Process
As much as you want to roll up your sleeves and de-clutter in ten minutes by yourself, don't forget that you have to teach your kid discipline. So, you're the person that your child looks up to. Use that authority to help him/her tidy up the mess in the kids' room. Showing and explaining how something should be done might not be enough, depending on your kid. You might need to turn everything into a game, a sort of competition between you two, in order to draw your child's attention for longer. It's important to convey such maintenance methods while the child is young.  This way your kid will learn that order should be maintained not only in the child's room but in general, meaning that there are rules that have to be followed.
Organization of Toys
Every kids' room contains a massive amount of toys that are nowhere to be stored. You keep buying but can't seem to put them aside when your kid outgrows them. If you're planning to have another child, you may save some of the toys for him/her. The important part is to move the toys that your kid doesn't want to play with anymore out of the room. That's when you'll discover that you have enough space to store the ones he/she actually uses. For the toys you decide to leave in the child's room, it's convenient to use plastic containers. When the toy is composed of many parts, you may want to teach your kid to store them in one and the same container, explaining that this is the easiest way to find the matching pieces. The method of just throwing toys in the bottom of the closet won't create order, and it's not the best thing to teach your kid to do. They will be out of sight but very hard to find.
Nobody says that it won't take some time to teach your kid how to organize his/her own room, but this is absolutely necessary. Thus you're helping your children get used to the rules of the surrounding world, which will certainly pay off in the future.
Guest post by Grace who is an expert in the field of home improvement and organizing. She enjoys writing articles about home organizing, healthy lifestyle
and cleaning.