I am really excited to review my new Zero Gravity Chairs from Overstock! They are going to be absolutely fabulous for lounging on the porch. You see, I love spending time outdoors but I just don't spend very much time on my deck. I was wondering why when the answer became obvious. My old seating was not comfortable. So I began browsing online and I saw the Overstock Zero Gravity Chairs.
Review of Overstock Zero Gravity Chairs
The Overstock Zero Gravity Chairs come in several colors- beige, black, blue, and dark brown.  I chose the Beige Zero Gravity Chair 2 Pack.  The first thing that attracted me about these chairs is that they look comfy for lounging.  I love to sit back in the sun and just relax.  I could probably take a nap in it and I look forward to doing so when the weather warms up a bit!
When I unpacked the the chairs from the box, my first impression was that of a sturdy steel frame- not flimsy aluminum.  These are solid chairs that won't blow around on my deck.  I also like the fabric- it is long lasting outdoor fabric without seeming cheap or plastic.  There are metal rivets through the fabric that  attach it to the frame so that it is pulled tight and is comfortable for up to 300 pounds.  All I had to do was unfold the chair and slip on the headrest and I was ready for some comfy seating.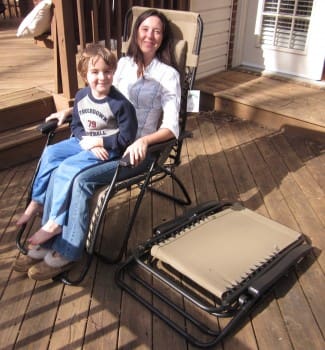 I love the comfy headrest which slides up or down the chair for a perfect fit whether for my kids, myself, or my tall husband.  I sat down in it and thought I could bring this to soccer games and sit comfortably and route from the sidelines.  It folds up very nicely and sits up like a regular chair.  Then I leaned back in the zero gravity chair and that is really what all the fuss is about folks!  You just lean back in it like you do a recliner and it lifts your legs and you go back just as far as you want to the stop and then you can go back more or less- all without ever having to get up and manually adjust anything.  You just lean and it moves with you and yet it is stable unless you are moving your weight purposefully.  I could see myself bringing these zero gravity chairs on our yearly camping trip for better lounging around camp.
Overall, I have to say that the Overstock Zero Gravity Chairs seem like they should hold up very well- nice weight, good finish on the metal, nice outdoor material.   I like their comfort factor and I like the ability to easily transport them.  I am very pleased with these chairs and I would feel great suggesting them to even my mom as a good buy.
You can check out these zero gravity chairs and lots more at Overstock.com and you may want to enter their Valentines Sweepstakes as well!
I did receive these zero gravity chairs from Overstock in the hopes that I would share my honest opinions. I received no monetary compensation and the opinions expressed are my own.