Way back in January you probably resolved to eat better—maybe even as a whole family! However, it's been three months, how is that going for you? It's difficult to stay on a path of healthy eating—especially when there's a pizza place and a burger drive thru on just about every street corner. We are a society of convenience, and if you have work, family obligations, and social obligations, it tough to make every meal from scratch, let alone ensure that it's healthy.
Luckily, with so many smart phone app dedicated to educating families about health eating, your phone can also double as your diet coach. So between carting the kids back and forth to school, soccer practice, and dance recitals, you can work in a few healthy meals every week. The following four healthy eating apps put a ton of healthy eating tools and low calorie meal options at your fingertips. So suddenly healthy eating is just as convenience as ordering out…
Healthy Eating Apps:
1. Grocery Gadget Shopping List ($3.99 – for iPhone)
Has this ever happened to you: You write your healthy grocery list with all good intentions in mind only to leave it at home? And on the way home from work, instead of making a healthy option for your family, you opt to bring home a big bucket of chicken? It's happened to the best of us, but luckily the Grocery Gadget Shopping List app is here to save families from fat-laden take-out meals. This app lets users write a grocery list and save it to the web browser, and then it automatically syncs that list up with your smart phone so you'll never leave home without it! You can also automatically synch that same list to your husband or wife's iPhone too and tag team the list to get things done more quickly and conveniently.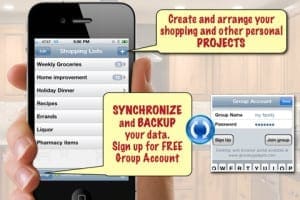 2. Locavore (Free – for iPhone)
I love the Locavore app because it puts my family's health first and foremost with the ripest, juiciest in season fruit and vegetables! Its plums, raspberries, strawberries, kale corn on the cob, apples, and various other colorful delights on my table thanks to this app which fills me in on what produce is in season. The Locavore app will automatically pin point the state you're located in using your phone's GPS and then deliver a list of the freshest in season produce at the closest location according to the nearest grocer, fresh market, farmer's market, or farm.
3. Food Additives (Free – for Android)
The Food Additives app will tell you what those strange, chemical-sounding ingredients are in your favorite packaged food. Just use your phone to find out what the heck sodium nitrate really is in your favorite brand of nacho chips. This app will give you the gist on over 450 popular additives. You can search or browse by name, number, diet type, and more to find out the potential side effects of an additive, and the maximum recommended daily intake, and dietary restrictions. Just think; if it's really bad it might turn you off of those Mallomars for good! This is a French app but default language can easily be set to English, although some users of Samsung cell phones have noted that the language set screen is not being displayed when installed.
4. Food Tripping (Free – iTunes App Store and Google Play)
If you're in need of a healthy meal on the go for your family, you can count on the Food Tripping app to deliver alternatives to greasy fast food joints. Using your location, this app will serve up a tasty list of healthy on-the-go options from healthy nearby restaurants. So the next time you take a family vacation or are stuck between cities after a visit to grandma and grandpa's house, you can use Good Food Near You to make healthy, informed meal choices for your kin.  Download in the iTunes App Store or Google Play
What is your favorite healthy eating app?