Just because we're moms, doesn't mean that we have to sacrifice getting the car of our dreams!  I mean, as long as the car of your dreams has four doors, has plenty of space for the kids, and is safe.  Okay, okay, perhaps "car of our dreams" is one of those things we have to sacrifice until they grow up and head off to college. All jokes aside, as a mom, I do want to feel as if my car is a safe haven for my children and myself. If I could get my hands on an armored vehicle, I might even consider it. Well, as long as it got decent gas mileage!
Useful Tips on Choosing the Safest Family Car:
Airbags

In most of our minds, airbags are synonymous with overall car safety. However, there are a few things you'll want to look for when you're car hunting.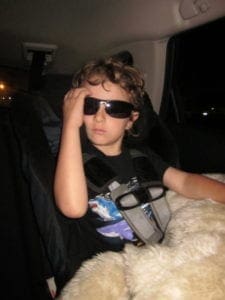 First of all, front airbags aren't safe for children who are under the age of 13. If you'll have younger children riding in the front seat, you'll need to make certain that the car you choose allows you to turn off the front airbag.
Secondly, keep in mind that some cars are only equipped with front airbags. For optimum safety for your little ones riding in the back, you'll want to look for a car that also comes equipped with side- impact airbags.
For larger vehicles like SUVs or minivans, you'll want overhead protection as well. Look for a vehicle that offers rear curtain airbags that cover the back windows and can help minimize impact in case of an accident.
Anti-Lock Brakes (ABS)

Anti-lock brakes are designed to prevent the brakes from freezing up if you suddenly need to slam down on them in an emergency. This can mean that you have added control and your vehicle is a lot less likely to suddenly spinout or fishtail. If you're keen on finding a safe vehicle to drive, this is the kind of braking system that you'll want.
Furthermore, some vehicles equipped with ABS will also offer brake assist, a system that's designed to recognize emergency braking and can activate your anti-lock brakes more quickly. Brake assist can add a fair amount to the overall price tag of a vehicle. However, if you think you'll need to rely on emergency braking more frequently than normal—for example if you live in an area where wildlife is often a danger on the roadway—it might be worth it for added safety.
All-Wheel Drive/Traction Control

All-Wheel Drive (AWD) on a vehicle means that power is being distributed to both the front and rear wheels evenly. This can often translate to a better traction in extreme road conditions.
However, an AWD system won't aid in traction if you've accelerated too quickly when taking a corner unless your vehicle also offers traction control. Therefore, for optimum safety, look for a vehicle that offers both AWD and traction control systems.
I hope these tips for selecting a safe family car help you in your search for the perfect vehicle!
Guest post by Adria Saracino who is a marketer and freelancer. She writes for GoAuto, which offers new and used cars for review and purchase. When not writing or consulting on business strategy, you can find her talking about style on her fashion blog, The Emerald Closet.