If you're a fan of saving the environment like I am and you want to save your money as well, I don't blame you! When you use green friendly products around your household, you probably don't want to set out and pay top dollar. Instead, I want to give you a few tips that you can use when you're looking to save money by being green.
Ways to Save Money By Being Green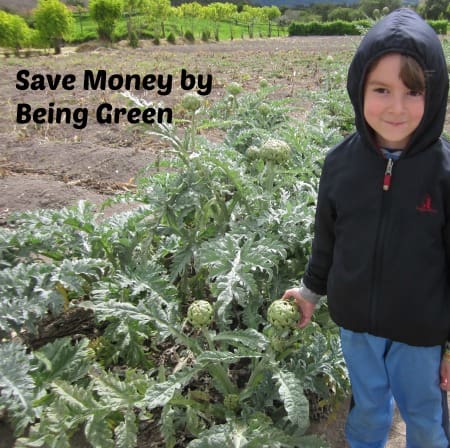 #1 Grow a garden
It doesn't have to be huge, but you're going to find that even if you grow a small garden in your back yard, it can save you a money. Gardening is fun to do and it is fun to see how vegetables actually grow.
#2 Wrap your water heater
Since being green means saving energy, you're going to want to probably use as little of it as possible. Did you know that if you wrap your hot water heater with a specialized blanket, you can save 15-20% off your bill? If you're going to do this tip to save money by being green, make sure you get a blanket designed for a water heater for safety.
#3 Skip the dryer
Now, if you live in a warmer climate, you can take advantage of air drying your clothes all the time. Unfortunately, in the winter, you're going to have no choice but to dry them inside. Invest into a $5 clothes line and dry your clothes outside to save on dryer costs. You're saving energy and money!  Skipping the dryer is an easy way to save money being green.
#4 Create your own cleaning products
There are some cool recipes online that you can use when you're looking to create your own eco-friendly cleaning products. Instead of buying name brands, household items such as vinegar, baking soda, and more will do the trick. Google for "eco-friendly household cleaner recipes" to see for yourself many cleaning recipes to save money by being green.
#5 Skip on the bottled water
Not only do those little bottled water containers hurt the environment, you're spending too much money. Instead, you're going to want to invest into a simply water bottle and filter. Many of these filters can filter out 500 gallons of water!
#6 Take a close look at your appliances
If you have older appliances that aren't energy efficient and you're thinking about getting new ones, you will want to highly consider an energy efficient appliance set, because items such as your Washer, Dryer, and many other items can save you hundreds, if not thousands over its life time.
Sure, some of these green tips can be rather simple, but by using them, you should be able to save! Test these eco tips out and see how much you save. Not only are you going to be helping your wallet, you're going to help the environment as well!
You might also like to read Tips for First Time Gardeners.