The Turkish Towel Company makes luxurious towels and robes.  What makes their towels so luxurious?  Turkish Cotton.  It is premium cotton that has extra long fibers which results in stronger and smoother cotton threads.  Turkish Towels become softer, fluffier, and more absorbent with successive washings.
"Meticulously woven with exceptional warmth and softness, all the Turkish Towel Company's luxury towels, bathrobes and specialty products are woven from 100% Turkish, ring-spun cotton. Our Turkish towels are crafted by a family of skilled artisans, who have years of experience in textile production. The result? Our Turkish towels are incredibly plush, exceptionally strong and very absorbent…While a Turkish towel may cost more initially, in the long run it costs a lot less as it will easily outlast towels of inferior quality."
Zenith Complete Towel Set Review: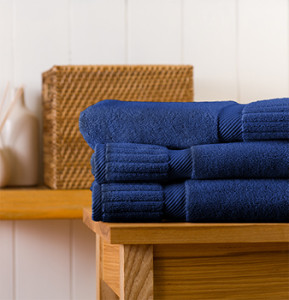 The Zenith Complete Towel Set is an 8 piece towel set that consists of 2 Bath towels, 2 Hand towels, and 4 Washcloths- perfect for each bathroom. The Zenith Turkish Towels are very stylish with great detail work on the borders and they come in 10 colors.  I chose the Cobalt Blue. The Zenith Turkish Towels really are sumptuously soft and have a "luxury weight of 700 gsm"- I didn't know exactly what that meant when I read it but after holding it, I can tell you it means it feels extra thick and like the towels you get a top luxury spas (if only I could go more often!) In fact, when my sister-in-law was here, she asked me if I had any towels that weren't so fancy!  They are also generously sized- the hand towel is much bigger than my old hand towel They are very absorbent and I am quite pleased with my Zenith Turkish Towels!
The Turkish Towel Company Discount:  Hurry! January White Sale – Get 25% Off Everything! Apply the Code "whitesale" to Save!
Zenith Turkish Towel Set Giveaway: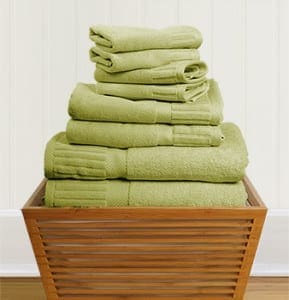 One lucky reader will receive one Zenith Complete Bath Set. This 8 piece towel set is ultra stylish, sumptuously soft and made in Turkey from the finest two-ply Turkish cotton. ($110 value)
The Turkish Towel Company Giveaway Dates:  January 22- February 18, 2013  Midnight EST
How to Enter:  Enter through Rafflecopter- just sign into the widget and click the entries you want to complete.
Giveaway Details:
Open to USA residents, age 18+ to enter. Winner announced right here on February 19, 2013. Winners will be selected through Rafflecopter and I will notify by email. Winner must respond within 3 days or the prize will be forfeited. Your email will not be shown and will be kept private.
I did receive towels in the hopes that I would share my honest opinions.  I did not receive monetary compensation and the opinions expressed are my own.