I moved into my house about 4 years ago and slowly but surely we are working on making it a welcoming home that represents our style. When I saw Alphabet Photography's beautiful art composed of photographs that spell out words, I knew that it would be a lovely addition to our decor.  In this unique form of alphabet art, they offer photography of everyday objects (over 1000 choices) that resemble letters of the alphabet, then arrange the photographs in a collage to create any name or word.
When you visit the Alphabet Photography website you are able to type a word into the "create a word tool", which is the large frame on the screen.  This is a really neat way to personalize your art or even a gift.  It is also a great way to feature inspiring words in your home.  I considered doing our last name but decided to go with "Family" instead since it is so central to our home and life especially at this stage of our lives.  You just type in a word and then hit enter and the system will auto generate the word for you!  It is that easy.   If you would like to choose your own letters, you can click on the first letter in the frame and a selection screen will pop up.  Then you click on the version of the letter you would like to use repeating this for any letters you would like to change.
Alphabet Photography also allows you to customize your art further and fit it to the look of your home through frame options.  The float mount is the default item that is used currently.  For the float mount, the photos are attached to 1/8 masonite board with a UV protective laminate that makes it easy to wipe clean.  There is a small box frame on the back that you use to hang on the wall and that gives it a little lift away from the wall creating a floating look .  If you move the cursor over the first corner icon under the framing options, a pop up screen appears with pictures to show how it hangs on the wall.
I love the customized float mount that we received and I put it in our toy room to try to dress it up a little. The new float mount letter art will also go well as I convert the room into a study as the kids grow older.  I think it looks great. Want one for your home?
You can check out Alphabet Photography products such as their Letter Art and inspirational frames and order them shipped right to your door (USA and Canada).  You also have a chance to win a piece of art right here!
Alphabet Photography Giveaway Details: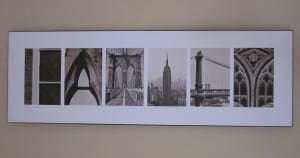 One lucky reader will receive one Alphabet Photography customized float mount with winner's choice of word. (up to a $99.99 value)
Alphabet Photography Giveaway Dates:  September 25- October 23, 2012 Midnight CST
How to Enter:
Do any one or more of the following and post a comment below about each action you took. Each comment will count as a separate entry so your chances of winning increase- limit of 5 entries per person since there are only 5 actions.
1.  Visit Alphabet Photography and leave a comment here with something that caught your eye
2.  Subscribe to Family Focus Blog RSS feed or email in top right hand margin
3.  Like Family Focus Blog Facebook page
4.  Like Alphabet Photography on Facebook
5.  Tweet about this giveaway and leave the URL to your tweet in a comment:
Enter to win Customized Letter Art #Giveaway from Alphabet Photography http://familyfocusblog.com @familyfocusblog @AlphabetPhoto #decor
Giveaway Rules:
Open USA and Canada ,  age 18+ to enter. Winner announced right here on October 24, 2012. Thanks for entering and good luck! I will select the winner through random.org and notify by email. Winner must respond within 5 days or the prize will be forfeited.  Your email will not be shown and will be kept private. Not responsible for prizes lost in shipment.  NO PURCHASE NECESSARY AND VOID WHERE PROHIBITED BY LAW.
By entering the giveaway, you release Family Focus Blog from any liability whatsoever, and waive any and all causes of action, related to any claims, costs, injuries, losses or damages of any kind arising out of or in connection with the giveaway or delivery, mis-delivery or acceptance of any prize.   I received letter art in the hopes I would share my honest opinions.  I received no monetary compensation and the opinions expressed are my own.
GIVEAWAY IS NOW CLOSED– THE WINNER IS #64, laura cagnina