Here is a Blog Giveaway Linky because everyone loves giveaways! This blog giveaway linky helps you find out about all the best blog giveaways. Enter to Win These Great Giveaways and/ or List Giveaways here!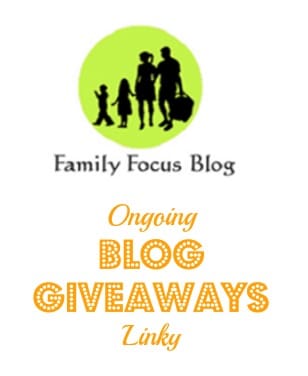 Bloggers, please provide a direct link to your family friendly giveaways in the giveaway linky below. Please submit your giveaway in the following format: End Date- Prize It is on ongoing blog giveaway linky but I do update it and delete old giveaways so that it is easier to find current giveaways.   I really appreciate it if you help promote this blog giveaway linky by sharing it socially.  It helps get more traffic to all of our blog giveaways.  THANKS!
PLEASE VOTE FOR ME!! Thank you!
Please take a second to vote for us on Top Mommy Blogs! One click on the banner below and you're done…


Ongoing Blog Giveaway Linky
I hope you enjoy this list of great blog giveaways!
When Adding Your Blog Giveaway- in the name section put: Date then Prize
If you have a green giveaway you have shared on my giveaway linky and you want another linky head on over to Green Mama's Pad  for her Friday green giveaways linky.
If your looking for a list of places to submit your blog giveaways or enter giveaways, check out my list of Sites to Submit Your Giveaways.
MY LUCKY DAY BLOG GIVEAWAY WINNINGS
I have won several prizes but I can't remember them all so I decided to make a list here starting now to share with others how great blog giveaways are!  I am amazed at how many giveaways I have won!
Puddle Jumper from Marvelous Mom Reviews
Boiron Prize Pack from Simply Stacie
Custom Blog Advertising Pack from Blogelina
Preggi Pops from Parental Views Online Mag
Vidazorb Chewable Probiotics from Tethered Mommy
Box of Fair Exchange Chocolate from Mommy is Green
Blog Design Giveaway from Barbara DiLisio
Tales to Play Board Game from Sweeps 4 Bloggers