April showers bring May flowers! And we're thankful and all… but what are we to do when the rain turns us all into shut ins? It's hard to keep the kids occupied and active inside the house on a rainy day and perhaps more troublesome to try venturing out in the weather for activities. That's why it's always good to have a Rainy Day Activity up your sleeve where all the ingredients for fun are lying around the house! Next time you're shut in with the kiddos, have a little fun by putting on a puppet show for other family members lounging around or maybe just yourselves. Below are 3 Easy Steps to creating a fun-filled day indoors.
To Make A Puppet Show You'll Need:
Scissors
Socks or Brown Paper Bags
Craft supplies (your pick!)
Blanket or tarp (optional)
Glue
Large Cardboard Box
Chairs
Red Bed Sheet (optional)
3 Steps For A Rainy Day Activity Puppet Show:
Step One
Make the puppets for the puppet show. Use some old (hopefully clean!) long socks or grab a pack of brown paper bags like these from the Dollar Tree. Stick your hand up the sock or bag and glue googly eyes, glitter, yarn, felt, and anything else you have lying around in your craft room for the eyes, nose, and mouth of your character. Be as creative as you feel! And don't be afraid to get messy! Optional: Lie a tarp or blanket down to catch spare glitter and yarn and felt clippings. Shake the tarp/blanket out into the garbage when done and voila! No more mess.
Step Two
2. Make a puppet show stage. Take large cardboard box and cut out a hole. You can make this as simple or as complicated as you want. Use your craft supplies to make it look really special! Optional: Use a red bed sheet or old curtains to imitate a real theatre look. Take a look at the pictures below for some inspiration.
Step Three
3. Set up the puppet show! Now that you have your puppets and your decorated set, it's time to pull out the dining room table chairs and serve a couple of refreshments. Maybe you could make these cute popcorn-shaped cake pops from Chef Mom for your guests… or how about a couple of root beer floats from Simply Recipes?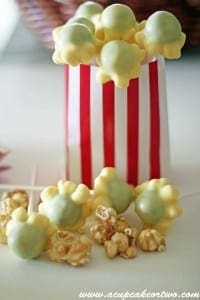 What other fun and engaging rainy day activities do you do with your kids? Have your kids ever put on a puppet show? Comment and let me know!