Choosing a family vehicle can be a fun experience for the whole family. But when you choose that family vehicle, it's important that you make sure the vehicle will work for your family. There are many different choices when it comes to family vehicles, and each vehicle has different plusses and minuses for your family.   If you're in the market for a new family car, check out these things you should consider when picking out the perfect family vehicle.
Consider Vehicle Size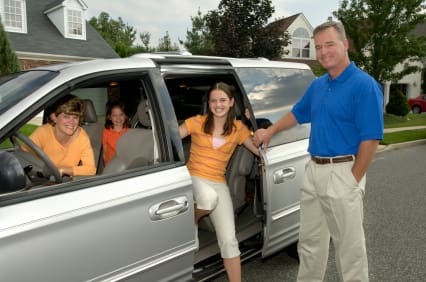 The size of your new family car should be something that's of upmost importance. Will a sedan work for your family, or will that sedan become too small when your family adds another member in a few years? The size of your family car is very important, especially if you take the majority of family vacations in it.
A great thing to consider as a family car is a conversion van from GMC Conversion Vans. A conversion van will fit all of your family (and many more) and have plenty of room for friends and extended family. If your family goes camping a lot, a conversion van will fit all of the gear and a lot more!
Consider Safety Features and Rating
There are hundreds, if not thousands, of vehicles crashes across the country every day. That's why it's absolutely imperative that your next family vehicle is the best in its class in safety.
Make sure that the car has airbags all around, including side airbags. Many cars now have additional safety features, like doors that won't pop off during rollovers and automatic 911 dialing in case of an accident. Child safety locks are also another thing that your family car should have if you've got young children. Make sure your next car is the safest it can be, so you and your family never become a statistic.
Luxury Vehicle Features
The features in the family vehicle are important both for the kids and for the adults. Old, outdated cars with no great features will have your kids complaining even on short trips to the grocery store.
For one, a DVD player in the backseat is a great way to keep your kids happy and quiet on a long ride to the grandparent's house. For the parents, a nice sound system with satellite radio is a great thing to have in the family car, so you can listen to sports, music, or comedy while the kids are plugged in to the TV in the back. Many cars nowadays even have mini-fridges in the center console, minimizing the amount of stops you'll take when the kids complain about being hungry or thirsty!
Automobile Fuel Efficiency
Fuel efficiency should definitely be something you consider when it comes to picking out the next family car, because it means you'll be spending less on gas. There a lot fuel efficient choices on the market these days ranging from hybrid vehicles to electric and eco-boost.
Towing Capacity
You may want to have a car that can haul a boat or a trailer, in this case you will want to consider that as it will narrow your options.
I hope these family car buying tips help you when you pick out just the right car for your needs. What is the main feature you are looking for in your family car?
Guest post by Al Stef, a free lance writer.