There is just something about a great puzzle!  We all love challenging our minds and trying to find solutions and we all love the immense satisfaction of having solved a challenging puzzle.  Well, today I have a round up of 3D puzzles adults and kids will love ranging in level from simple to extremely challenging.  These unusual brainteasers from Europe include both puzzles and puzzling games.  I will begin with some 3d puzzles adults and older children will find more challenging and work my way down to 3d puzzles kids will be able to do by themselves. This post is sponsored by Oh! Toys (cool toys that are hard to find!) but all opinions expressed are my own.
Unique 3D Puzzles Adults And Kids Will Love
These 3D puzzles for adults and kids ought to put a gleam in their eyes!
4 Unique 3D Puzzles Adults Will Find Challenging
Jean-Claude Constantin Puzzles
Constantin puzzles are made in Germany by a true master puzzle maker. The complexity of his 3D puzzles is perfect for adults who love a good challenge and older kids who don't know how to give up and who enjoy a difficult challenge. If you are looking for 3D puzzles adults will find very challenging, these are high up on the list. There are several types of 3D puzzles composed of different materials and that involve different skill sets. Learn more or order Constantin puzzles at oh-toys.com
Truzzles
I have to say, that I think Truzzles are most beautiful 3D puzzles adult and kids could ever enjoy. But don't be fooled. These French hardwood puzzles are just as challenging as they are pretty! Getting all the ridges to line up is harder than it looks.
Cuboro Tricky Ways
This is a puzzling game from Switzerland where each turn allows the player the opportunity to solve the puzzle of the best arrangement to move their marble furthest into an empty slot. This never gets old because each previous turn is different and so the puzzle is always changing. My family reviewed this puzzling game a couple of years ago and we still play it. Cuboro Tricky Ways has gotten even more fun as my kids have gotten older and come up with trickier moves.
Recent Toys
Each of these Recent Toys puzzles presents a different challenge. The Brain String Advanced tests your "spatial" intelligence by lining up the rubber knobs so that each side of the clear box has the same color. The Escher Mirror Puzzle will turn your perceptions inside out as you try to place the cubes in the box to create several classic M.C. Escher drawings using both images and reflections. Learn more and see all the Recent Toys puzzles here.
Two Intriguing 3D Puzzles Kids Will Love
Christian Lessing Blocks

For younger kids, these Christian Lessing blocks can serve as unique building blocks. For older kids, they become 3d puzzles kids will enjoy using to build challenging arches and other imaginative shapes.
Wodibow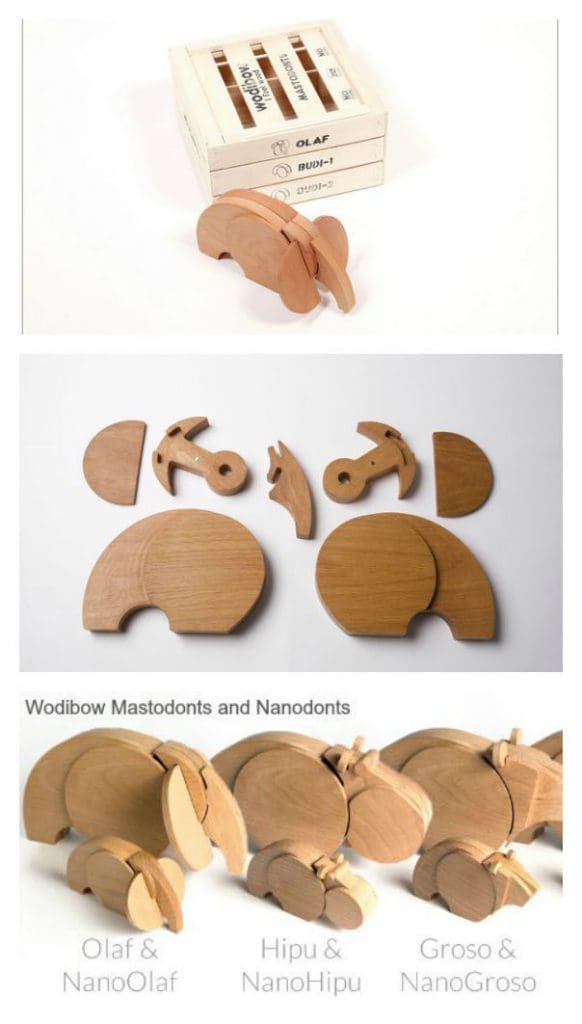 These Spanish puzzle makers have introduced the fun of magnets to their 3D puzzles. Kids will get a kick out of the way the magnets help click into place the pieces as they build animals and other fun shapes they can play with.
Whether you are looking for 3D puzzles adults will enjoy or kids will enjoy, there are lots of great puzzles for the whole family in this list. Better yet? You can get 10% off all merchandise when you check-out at oh-toys.com, just use coupon code FFBHOL16 .
Don't miss the latest blogs and videos about international toys and gifts at Oh! Toys' companion site, Global Toy Chest! Which of these 3D puzzles for adults or kids do you like best?