Earth Day is an opportunity for us all to take stock or our impact on the Earth and resolve to take some actions to lessen it. The fact is our population just keeps growing and we are changing the environment. Loving nature as I do, I hope we all work towards minimizing our impact make some Earth Day Resolutions that we will keep. Here are five ideas of what to do for Earth Day that will make a lasting difference.
What To Do For Earth Day- Make These 5 Earth Day Resolutions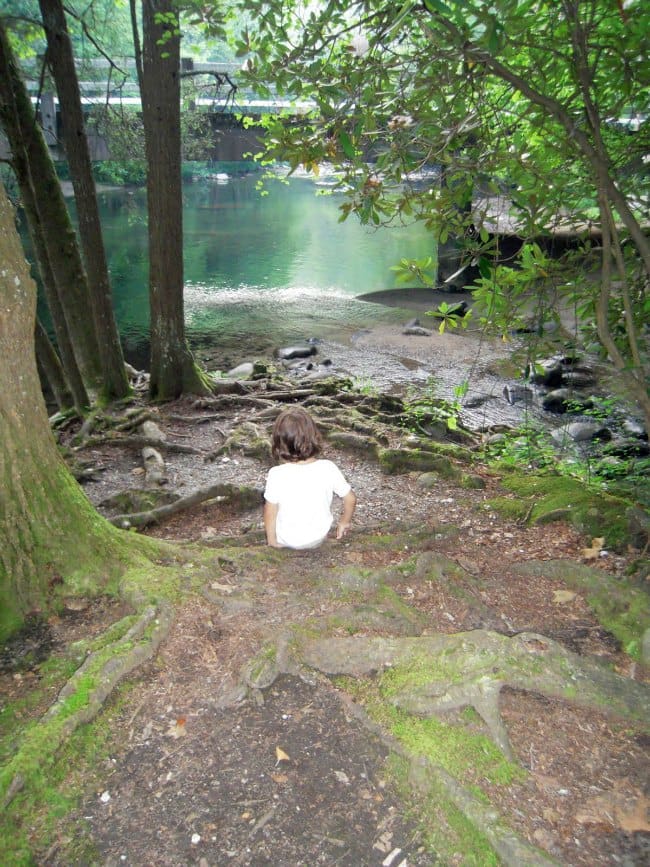 I will share with you my Earth Day Resolutions in the hopes that they may give you ideas for making your own Earth Day Resolutions. Here is what to do for Earth Day!
Spend More Time in Nature- Be Inspired By Nature To Preserve Nature
I believe that if you really love nature, you will be inspired to take care of it. I spent so much time as a kid in streams, catching crawfish and salamanders and fish. I spent tons of time talking walks with my mother in the woods (even when I really wanted to be home playing Zelda!) I helped my mom grow many gardens. I went hiking and camping and I saw the beauty in it all. I loved it and was intrigued by it- no wonder that I was a biology major in college!  I try to impart that my children by spending lots of time with them outside. Yesterday, we went to the nature center and caught tadpoles, fish, and salamanders! (We let them all go, of course.) They also got good and dirty digging in the dirt!
Garden
We planted our garden as a family and we water and weed as a family.  Everyone gets involved and works together.  I can't tell you how excited Sierra gets watching the plants. "Mama, come look, come look, the tomatoes have flowers!" Leo just wants to play with the worms, which I also think it great! Gardening also provides us with cheap organic produce that they are excited to eat after helping grow it.
Compost
We also compost. It is easy to do and enriches your soil. It saves me all that waste and odors in my trash can and it saves me money on fertilizer! I keep it simple. Because we have a big back yard, we have a corner where we can just dump our leaves, lawn trimmings and all my fruit and veggie scraps. (My dogs eat any other left over scraps!) If you live in the city and don't have an area where you can dig your scraps into the ground, you can still compost! You can learn more at Composting 101.
Reduce, Reuse and Recycle
I believe firmly in reducing, reusing, and recycling as much as possible. If you are not recycling, please start! Just imagine if everyone adopted the three "R"s for their Earth Day Resolutions. You will be amazed at how little trash you have once you start recycling and composting! The less processed packaged food you eat, the better! Not only does it reduce the waste that goes in the trash and recycling bins, it is also so much better for you to eat fresh foods! If you are done using something, bring it to Good Will and let it get used by someone else and pick up some items you need while you are there. Sometimes people think that shopping green is too expensive but shopping used goods at thrift stores is also shopping green. I think this is the area where people can make the biggest impact because if we modify a simple everyday behavior, it adds up to a huge contribution.
Get Involved- Sign Petitions/ Volunteer
More great Earth Day Resolutons involve getting involved with "green" causes and political movements for change.  Earth Day is also a great time to take action and push climate and energy legislation forward. You can also sign up for action alerts form Care 2. Earth Day is also a great time to volunteer. You may love it and want to do it all year!
Please tell me about your Earth Day Resolutons so we can inspire each other! Which one(s) of these ideas of what to do for Earth Day will you pick?