My dog is getting up there in doggy years, so when Essentia offered me an Essentia Luxury Dog Bed to review, made from shredded Natural Memory Foam and natural latex, I jumped at the chance.  Essentia is also providing one Essentia Luxury Dog Bed for giveaway as well.
Essentia Natural Memory Foam
Essentia is a premium mattress maker that is committed to making the "world's only Natural Memory Foam Mattress."
"By replacing many ingredients with natural ones such as natural latex, essential oils, plant extracts and water we've created a healthier alternative to petroleum based synthetic memory foam mattresses."
Luxury Dog Bed Review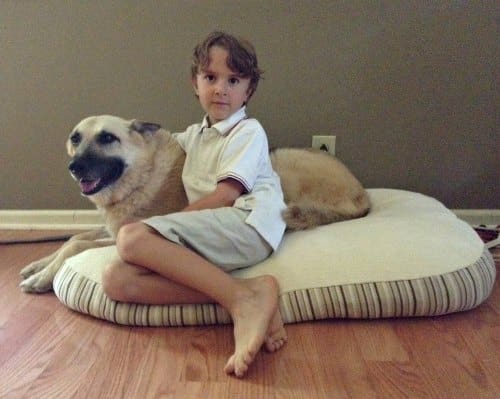 Essentia takes luxury dog beds to a whole new level. The Essentia Kingston Luxury Dog Bed is made entirely of shredded Natural Memory Foam and natural latex for maximum pressure relief, breathability and durability.  The pressure relief of the natural memory foam is what really appealed to me.  My dog is about 12 years old now and she suffers from arthritis and hip dysplasia so I am happy for her to have come comfort and relief when she lays down on her dog bed.
The Kingston Luxury Dog Bed is covered in an organic cotton sherpa designed to last with a non-slip grip bottom safe to use on all floors.  The organic cotton cover is super soft and cozy and it is machine washable. If I had my druthers, I would chose a darker color pallet because my dog likes to get dirty and I would like not to notice it needs to be washed quite so often!  I like the non-slip grip feature because that is important for my dog with her hip dysplasia.  I also like that this luxury dog bed has dust mite deterrent and it is hypoallergenic.
Overall, I'd say anyone who is seeking a luxury dog bed for the ultimate comfort factor, will be very pleased with the Essentia Luxury Dog Bed.  Available online at myessentia.com
Essentia Luxury Dog Bed Giveaway: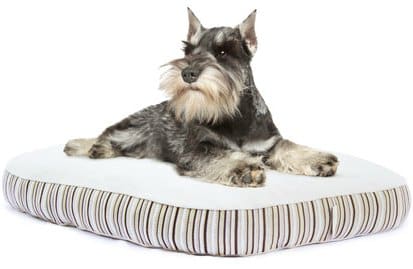 One lucky reader will receive one Essentia Kingston Luxury Dog Bed designed for comfort for the pampered pooch in medium or small size. (up to $189 value)
Luxury Dog Bed Giveaway Dates:  August 28- September 25, 2013 Midnight CST
How to Enter: Enter through Giveaway Tools- just sign into the widget and click the entries you want to complete.
Giveaway Announcement:
Winner announced above in the Giveaway Tools widget on September 17, 2013. Winner will be selected through Giveaway Tools and I will notify by email. Winner must respond within 4 days or the prize will be forfeited. Your email will not be shown and will be kept private.
I did receive a luxury dog bed with the hopes that I would share my honest opinions.  I received no monetary compensation and the opinions I have expressed are my own.  The prize will be provide by Essentia.
Bonus:  Essentia is having and Essentia Mattress Giveaway for people too (up to a $5,000 value)! You can enter that giveaway on the Essentia Facebook Page.