One of our favorite things to do as a family in the fall is to visit the local cider mill and get fresh donuts.  Everyone loves fresh donuts, especially cinnamon sugar donuts!  Since we found out one of our little ones has Celiac Disease this tradition has been no more.  We still go get apple cider but we haven't had fresh donuts in 2 years.  This weekend I made Homemade Gluten Free Cinnamon Sugar Donuts so we could all enjoy fresh donuts and apple cider together. They were delicious so I will share the gluten free donut recipe with you here.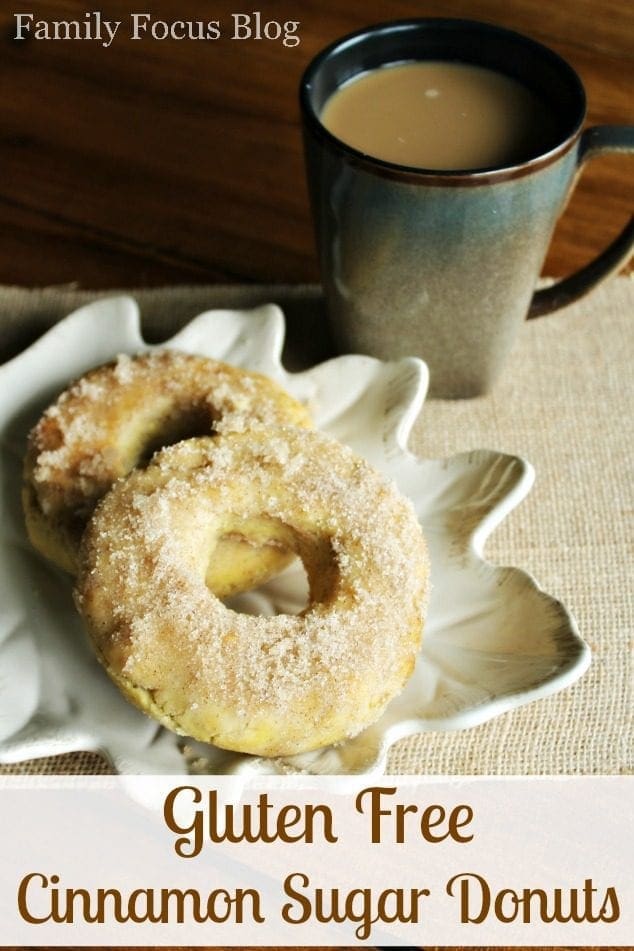 Cinnamon Sugar Gluten Free Donut Recipe
As with most of my gluten free recipes I used Pamela's gluten free flour for these donuts.  I used the All Purpose Artisan Flour but I think you could use the baking mix or even a combination for an even greater donut!
Ingredients:
4 Cups Gluten Free All Purpose Flour
6 tsp Bking Powder – make sure that you are using gluten free baking powder (for me I use corn free also)
1 tsp Table Salt
3/4 cup Raw Sugar
3/4 tsp Cinnamon
1/2 tsp Nutmeg
1 3/4 tsp Real Vanilla
2 Large Eggs
1 1/2 cups Whole Milk
1/4 cup Coconut Oil
For topping
1/2 cup Raw Sugar
1 tsp Cinnamon
Instructions For Gluten Free Donut Recipe:
Preheat your oven to 425 degrees.
Line a baking sheet (or several) with parchment paper.
Combine the gluten free flour, baking powder, salt, raw sugar, cinnamon, and nutmeg together in a medium bowl and set aside.
In the bowl of a stand mixer combine the vanilla, eggs, and milk.  Whisk until combined completely.
Add the coconut oil to the milk and eggs and continue whisking until well combined.
Fit the mixer with a dough hook attachment and slowly begin adding the flour mixture to the wet ingredients.  Continue adding the flour mixture on low until all ingredients are mixed together and totally combined.  The dough will be thick and will easily form shape.
This is how I made my shapes.  If you have a donut pan it could be much easier but this worked well.
Separate the dough into approximately 24 evenly sized balls.  Pat the dough balls down to about 1″ thick and use a small round cookie cutter to cut a hole out of the center.  If needed use your hands to gently shape the dough a bit.
The pieces you cut from the center can be re-rolled for more donuts or can be baked as donut holes!
Bake in the preheated oven for 12-15 minutes or until golden brown.
Remove the donuts from the oven and let cool for 3-5 minutes.
While donuts are cooling stir together topping sugar and cinnamon.  Dip the hot donuts into the topping and set aside.
I brushed a little melted butter on some of the donuts to get the cinnamon sugar topping to stick better and I think this worked best!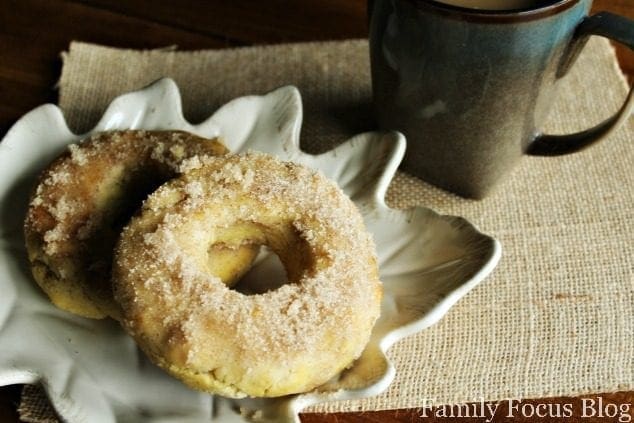 Serve the Cinnamon Sugar Gluten Free Donuts while they are still warm or enjoy later.
I'm sure you could deep fry these donuts too but they were delicious baked and came out a lot like a cake or muffin. I hope you enjoy this Gluten Free Donut Recipe as much as we did!