It's often a challenge for vegans and non-vegans to share a meal. In a restaurant, it's easy ~ everyone orders their own dish. At home, finding something to please everyone in the family is another story! As a vegan living with two meat and dairy lovers, I come up against this issue often, so I created this delicious, creamy vegan macaroni cheese recipe a couple of months ago. Had my family and friends not seen me eat some, they never would have known this vegan mac n cheese recipe wasn't the real thing!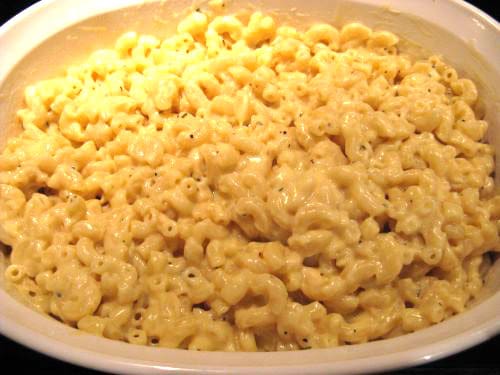 The Best Vegan Mac N Cheese Recipe
Vegan Macaroni Cheese Ingredients:
1 12 ounce box of pasta (I prefer DeBoles Gluten-Free Corn Elbow Style)
1 TBSP Tofutti Sour Supreme or other non-dairy sour cream
3/4 cup nutpods Dairy-Free Creamer Original Unsweetened
1/2 TBSP Earth Balance buttery spread
3/4 cup + 1/4 cup Daiya shredded cheddar cheese
Salt and Pepper to taste
Vegan Mac Cheese Recipe Instructions:
1. Bring a pot of water to boil and then add pasta. Cook to desired consistency.
2. In a medium saute pan, add the non-dairy sour cream, almond creamer, buttery spread and 3/4 cup of non-dairy cheddar. Stir until well melted (the cheese will still look a bit stringy.)
3. Once the pasta is cooked, drain the water but do not rinse, and put it back in the pot. Pour the sauce over the top and combine well.
4. Add the remaining 1/4 c of cheddar and mix again, tasting to determine seasoning for salt and pepper.
5. Serve immediately.
This vegan mac n cheese recipe serves 4-6.
**NOTE: If you cannot find the almond creamer, you can use 3/4 unflavored almond milk, and an additional 1/2 TBSP of non-dairy sour cream and 1/2 TBSP Earth Balance or other non-dairy margarine instead.
About the Chef:
Yonni Wattenmaker is the creator and writer of The Trendy Vegan, a lifestyle blog for vegans (or those dabbling in a less animal-based diet) who love fabulous food and a great time! Yonni was inspired to cook, create and write after a diagnosis three years ago that determined she could no longer digest animal protein of any kind. Though reluctant at first, she has now embraced this vegan lifestyle and wants to share her passion with others.
Many people become vegan or vegetarian in an effort to live a more eco-friendly lifestyle. According to Dr. David Brubaker, PhD, at Johns Hopkins University's Center for a Livable Future, "The way that we breed animals for food is a threat to the planet. It pollutes our environment while consuming huge amounts of water, grain, petroleum, pesticides and drugs. The results are disastrous."  Much deforestation occurs because the land is being converted into beef cattle ranches.  This recipe is therefore offered under eco-friendly tips.  Try adding one more meat-free meal into your weekly routine and then maybe another!
Let us know what you think of this vegan mac n cheese recipe! I hope your whole family loves it as much as mine do!