This guest post about what it means to be a modern dad is by Chris Duchesne, VP of Care.com's Employer Program, Workplace Solutions.
Responsibilities of The Modern Dad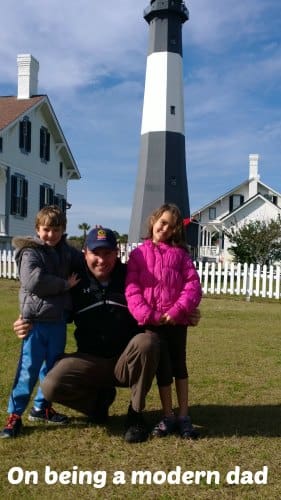 Dads are evolving. Today's modern dads are more involved with childcare and home responsibilities that in previous generations were considered the mother's "responsibilities."
According to Pew Research Center's Modern Parenthood study, fathers in 1965 spent only 2.5 hours a week on childcare. Today that number has jumped to about 7 hours.
"Wow, 7 whole hours" you're probably saying, sarcastically. "Start the parade." But evolution is a process, and the generations of boys we are raising might do even more.
So what's changing? Sure, the Mad Men era of after work dinners and drinks have been cut down, women are delegating family tasks to their spouses (more than their mothers did), more men are staying home with their children, technology is enabling work flexibility and more women are staying in the workforce – in fact, 40% are the family breadwinner.
This means that sharing household and childcare responsibilities is an increasing circumstance for today's families. Men are playing more of an equal parenting role. It's parenting in the sense of presence and not just a paycheck. Modern dads are finding themselves doing the "juggling" of personal and professional responsibilities that women have been doing for years. And they're realizing how challenging this really is.
Dads Finding More Family Time
But it's also that modern dads want to be more present. We want to know our kids – from birth. Our society and culture have encouraged this. My generation was allowed in the delivery room, could even cut the cord and call the gender. Today's generation of dads are (often) offered paternity leave and childcare benefits as well.
When we become fathers we think back on all of those thoughts we had as kids – "I wish my dad were here," "I'll do that when I'm a dad," – and we make promises to ourselves about the type of dad we want to be. We get a little closer to the person we wanted to be. And hopefully, as we reflect on who we said we'd be – and who we are – we can evolve. There's still time to define our role as the modern dad.  Share your thoughts about how the modern dad is evolving in the comments.
About the guest post author, Chris Duchesne, VP of Global Workplace Solutions for Care.com
A father of three small children, Chris knows first-hand the challenges working parents face and brings that experience to his role at Care.com. With more than 15 years of experience in HR technology, Chris oversees the Global Workplace Solutions program that provides customized, cost-effective programs that make Care.com's suite of services available to institutional and corporate clients, their employees and families.
You may also be interested in reading this article with perspecitves of  celebrity dads on fatherhood.