"Imagination is more important than knowledge." -Albert Einstein
One of the joys and beauties of childhood is imagination. The innocence of childhood allows for uninhibited ideas and imagination helps play out those ideas and develop creativity, free thinking, and problem solving.  Here are a few unusual toys that capture the imagination and give it free reign!
Three Unusual Imaginative Toys:
Simsalabim

These characters are sure to capture the imagination! Simsalabim are handmade in Germany by award-winning toymaker Hans-Georg Kellner.  For children 4 and over, these figures can taken apart and put back together in all new imaginative ways!  Your child can create these whimsical characters with cleverly designed geometric pieces made from locally grown beechwood colored with non-toxic water based paints, food-grade rubber , and hemp and felt cloth pieces.
brinca dada– Modern Dollhouse

Dollhouses have been capturing imaginations for centuries. One might argue that childhood could not be considered complete if one has never played with a dollhouse! This brinca dada dollhouse is the ultimate modern dollhouse that may inspire a love of design and architecture as well as offering a perfect setting for dolls to interact. brinca dada's Edward House Dollhouse features many distinguishing architectural features like glass corners, minimalist cut stone and hardwood floors. The Edward House has six rooms including a living room, kitchen, library/office, master bedroom, bathroom and child's bedroom. With its large, open floor plan and floor-to-ceiling windows, the Edward House enjoys year-round sunlight! Finally, the dollhouse is easy on the environment and safe for your child as it uses only eco-friendly woods and non-toxic and lead-free paints.
Tsumiki Construction Blocks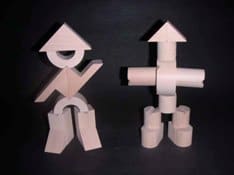 These Tsumiki Construction Blocks will even stretch an adults imagination!  They can be used in all sorts of unusual ways to create imaginative characters.  Unlike the simple geometric shapes of standard kindergarten blocks, these have unique angles, notches and curves.  The innovative shapes and beautiful finish of the award-winning Tsumiki Blocks let you create shapes and structures way beyond the conventional wooden block set.
Imaginative toys are great for a child's cognitive development.  Imagination helps children deal with events and give them a deeper understanding of how things work and why.  Imaginative play can lead to better social skills and the ability to perceive of past and future events.
"Imagination has brought mankind through the dark ages to its present state of civilization. Imagination led Columbus to discover America. Imagination led Franklin to discover electricity." -L Frank Baum
This post brought to you by Oh! Toys– cool toys that are hard to find!