These chemical free frugal cleaning tips were reprinted with permission from The Two Maids VIP Newsletter.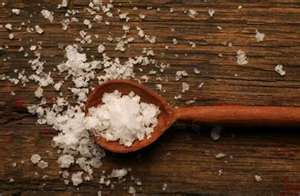 There are plenty of ways to clean your house. A quick stroll down the cleaning services aisle in your local grocery store will prove that there's more than one way to clean something. I've always been a big fan of the frugal, eco-friendly approach. It doesn't get much cheaper than some cheap table salt and free tap water. Here are seven creative ways to use nothing but salt & water to clean around your house.
How To Clean With Just Salt and Water
1. Burn Buster. If you burn food in a metal pot or pan, add salt immediately after removing the food to help the burnt bits loosen easier.
2. Oven and Stove Stain Annihilator. Cover spills immediately with salt. Let stand for a few minutes and then wipe up. The salt absorbs the liquids and helps loosen them from the surface. Salt is especially effective at absorbing grease and oils.
3. Dish Duty. If you run out of dish soap, sprinkle about a tablespoon into a sink full of water and just make sure to rinse the dishes well afterwards. Because salt water dries out your skin, be sure to wear gloves or use moisturizer afterwards.
4. Mildew Manager. Mix one part salt and one part lemon juice and apply to mildew in bathrooms and kitchens.
5. Countertop Cleaner. Dip a cloth in vinegar and then in salt. Rub over countertops to erase tea and coffee stains.
6. Shine Time. Mix together equal parts salt, flour, and vinegar and apply to brass, copper, or even gold with a cloth. Let sit for an hour, wipe off, and buff.
7. Red Wine Remediation. If red wine is spilled on a rug or carpeting, immediately blot up all moisture and then sprinkle the area with salt. The salt should absorb any remaining wine in about 15 minutes. Wipe up the salt and clean the area with a mixture of 1/3 cup vinegar and 2/3 cup water. Moisten and blot. Moisten and blot.
I hope you enjoyed this tips for how to clean with just salt and water. Have you tried any of these cleaning tips before?