Have you been considering chinchillas as pets? Chinchillas are super soft, cute animals that are gentle and family-friendly. If you have a family member with lots of allergies, you will love that chinchillas don't have dander so chinchillas are considered hypoallergenic! Chinchillas are pretty easy to care for as pets but they do need a comfortable habitat and lots of attention to thrive. We adopted our pet chinchilla four years ago and we will share our tips for how to take care of chinchillas along with some cute chinchilla pictures!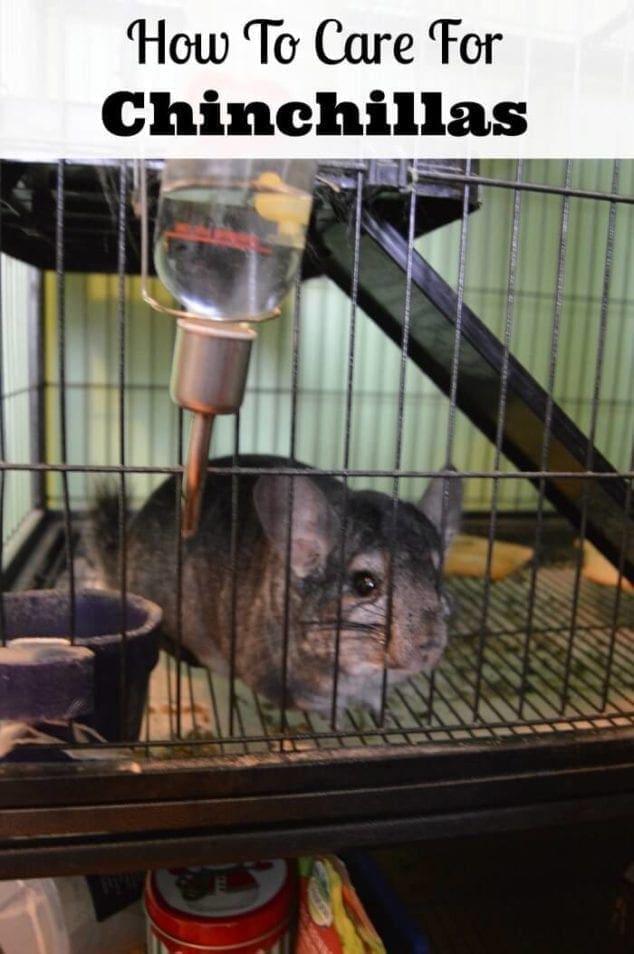 How to Take Care of a Chinchilla
As with any pet, they'll need proper food, a well-maintained habitat, and some human contact. If you've recently adopted a chinchilla or you're thinking about bringing one into your home, here's what you need to know to take care of chinchillas. First, I want to point out that the lifespan of a pet chinchilla is around 15 years. This is important to be aware of before you buy or adopt a chinchilla. We adopted our chinchilla, Mickey, from a girl at my daughter's school who had Mickey for several years before they needed to find him a new home. That was four years ago and he has been an excellent pet.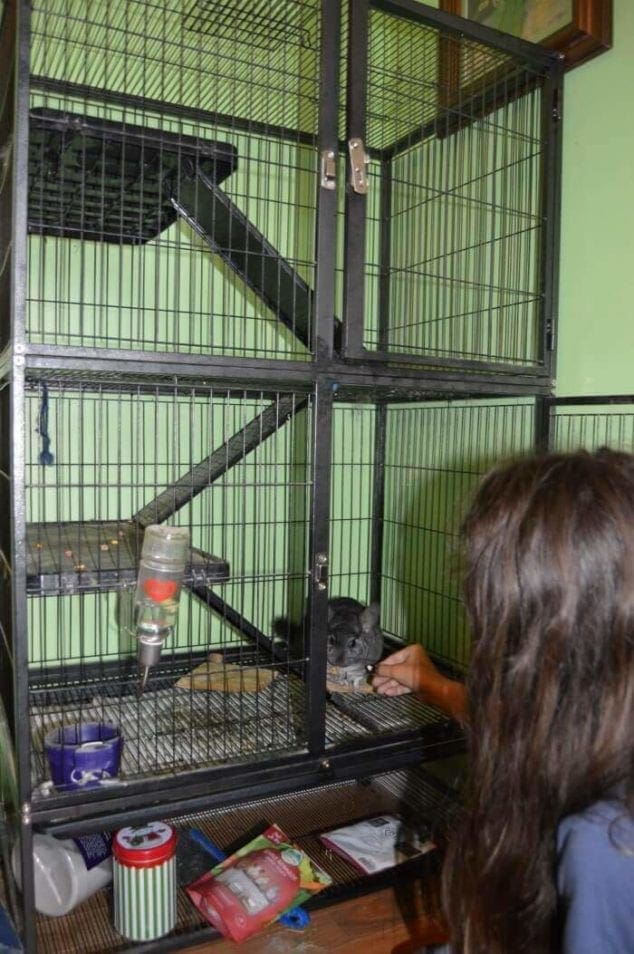 The Best Habitat For Chinchillas
Care of chinchillas requires a large metal cage. They can be very active so it's important for them to have plenty of room to move around. A tall cage at least 18" wide is best. The cage bars need to be close enough that the chinchilla can't get its head through. If it can get its head out, it can get its whole body out and escape.
When we adopted Mickey, he came with a small cage that looked like a bunny cage they may have gotten at the pet store. My daughter used her birthday money to buy him a Mickey Mansion! We selected our new chinchilla cage on Amazon (affiliate link below) and the great thing is that it doesn't need to set on anything and it goes up vertically so it doesn't take up too much room while still providing him with lots of space. Chinchillas love to jump and climb so multiple levels are great.
A nesting box in the cage will give Chinchillas somewhere to hide when they're scared or tired. It should be made of chew-proof material and big enough that your chinchilla can get in and move around. It should be placed on the floor, not on one of the levels, because it can get knocked down. They also love hanging tents and/or hammocks to cozy up in.
The chinchilla cage should be kept high, on a table or counter, as they don't like being looked down on. This is a scary situation for them. That is part of why I love the tall cage my daughter selected for our chinchilla.
Chinchillas overheat easily so it is best to keep them in an area that stays between 60 and 70 degrees. They can't survive in temperatures over 80 degrees or below 50 degrees. Direct sunlight can cause them to get overheated so keep their cage out of the sun.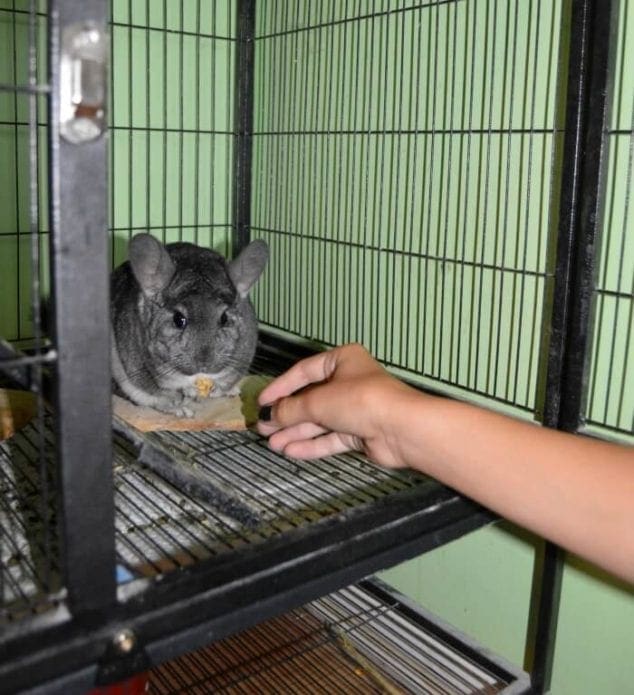 Chinchilla Diet
What does a chinchilla eat anyway? A well-balanced diet includes high-quality chinchilla food pellets with limited amounts of fruits and vegetables. They also need access to Timothy hay at all times and clean, filtered, chlorine-free water that is changed daily.
To properly care for chinchillas, pellets, hay, and water should be available at all times. You can give them fresh fruits and vegetables too, but in limited quantities. No more than 10% of their total diet. Any produce not consumed within 24 hours needs to be thrown out. Our chinchilla does not like fresh fruit or veggies (maybe because he never had them for the first years of his life) but he does like dried fruit and veggie chinchilla treats from the pet store. This seems obvious but avoid chocolate, caffeine, sugar, and high-fat treats as these can lead to serious medical problems.
Chinchillas Are Self Grooming
Chinchillas do a fantastic job grooming themselves but they do need access to a dust bath at least twice a week. We have a chinchilla dust bath house which we place in the cage for about 15 minutes twice a week. He goes in and rolls around which makes his coat all soft and fluffy. We remove the dust bath house after he is done so he doesn't make a mess all the time. Chinchillas do not need a water bath- avoid getting chinchillas wet as this can be dangerous for their sensitive body temperature.
While chinchillas do an excellent job keeping themselves clean, they need your help with the habitat. The cage we have has a pull out drawer for catching his pee and poo so that makes that part much easier. The chinchilla cage should be cleaned and disinfected weekly. Rinse and allow the cage to completely dry before placing your chinchilla back inside. Your chinchilla may want to roll around in a chinchilla ball while he waits.
Our chinchilla, Mickey, loves to run around my daughter's room but she has to prepare her room before letting him out. Our chinchilla will chew on wires if my daughter doesn't unplug and place them out of reach or place something in front of them to block the wires. She also stops up entrance to any small holes under furniture that would make retrieving him hard. She does a final sweep to make sure everything is picked up and out of his reach so he doesn't chew on anything or get dust bunnies in his coat.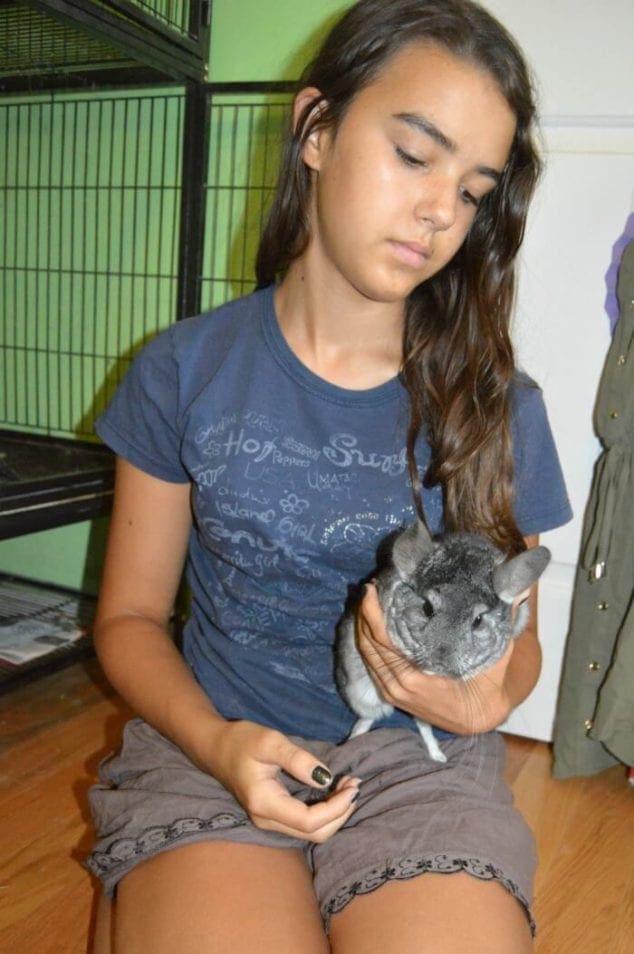 Holding Chinchillas
Be gentle when handling chinchillas, they have a very fragile rib cage. Most chinchillas are very social animals and they really like company of another chinchilla or interaction with a person. However, go slow and respect the signs that show they are comfortable or not happy. When we first adopted Mickey, our pet chinchilla, he was not very social. He was naturally a little frightened of the change of location and people. He would make a "nack"ing noise if we came too close to the cage. Then only if we came too close to him. Finally, he got used to us and he would come over to the cage bars to get his pets and get his treats. Now, he even runs into my daughter's hands and sometimes he sits on her shoulder.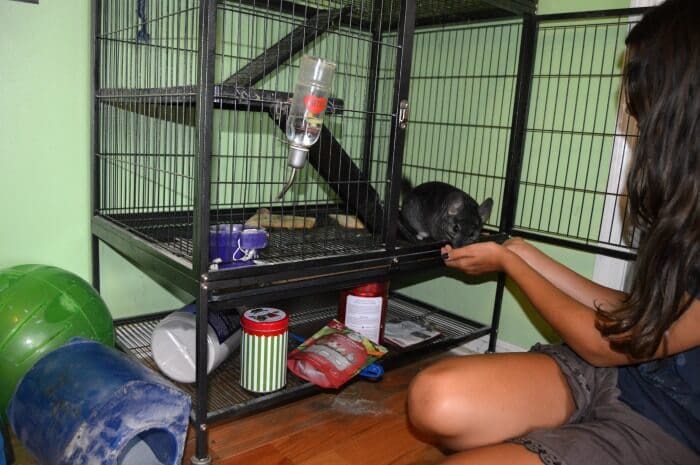 Mickey prefers my daugther but he likes me pretty well too!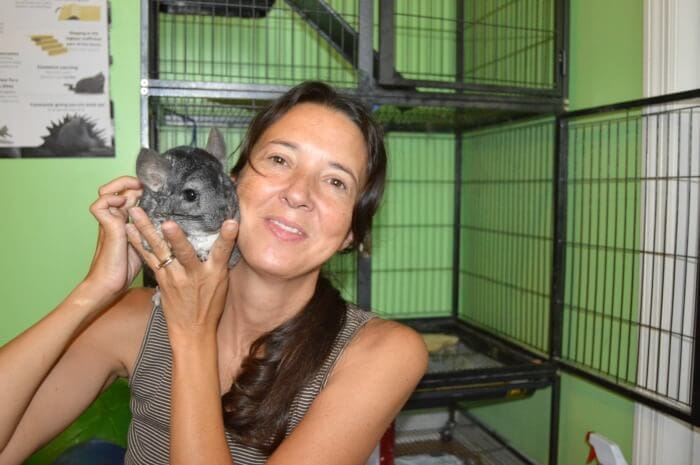 Caring for a chinchilla requires a time and special equipment, but they are adorable pets that are sweet and loving. Giving your chinchilla a quality home will guarantee them a long and happy life. If you get a chinchilla as a pet, please let me know how it goes and send me your chinchilla pictures @familyfocusblog!
Related Posts:
How To Help Pets Adjust To Back To School Routine
4 Unique Ways To Teach Kids Responsibility