St. Patty's day is less than one week from today (March 17th)! Because of this, it seems like many children (and adults) fall victim to the leprechaun mischief that comes with this day. With my kids, it has become a tradition for the leprechaun to do small pranks to my kids on St. Patrick's Day. This can range from green milk, green toilet water, green footprints, and even trails of shamrock confetti. Because of this, my kids want to fight back. They want to catch leprechauns! Here are three St. Patrick's Day crafts aka leprechaun traps you and your kids can make to catch the mischief-seeking leprechaun.
3 Fun Leprechaun Traps For Your Kids To Try To Catch Leprechauns This St. Patrick's Day:
1.Leprechaun Hat Pit Trap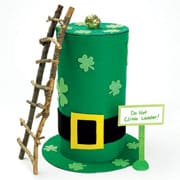 It's well known that leprechauns have big egos, so what better way to catch one than with it's own hat!  Use a recycled oatmeal container wrapped with green felt.  Cut a hole in the lid that will give way when the leprechaun steps on the top.  Set up warning signs (the leprechaun won't be able to resist).  Put "gold" on the top of the hat so the leprechaun wants to get to the top of the hat.
 2.  Leprechaun Rainbow Cage Drop.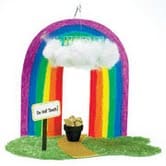 It has been proved that no leprechaun can possibly resist a giant rainbow. This can be used to your advantage to catch him! Once the leprechaun gets close to the gold, he will want to collect it for his own! When he grabs it, the trap will fall on him, trapping him! Here's how to make it! Get a bent wire hanger (to support the cage).  Tie fishing line to the top of a berry basket from your recycling bin.  To conceal the cage, tuck cotton balls into the weave of the basket to make it look like a cloud. Get the weight of the bait to hold down the fishing line. It can be a small flowerpot that is painted black with gold in it.
3. Leprechaun Tricky Trapdoor.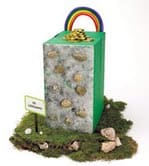 This trap will help you get even the most tricky leprechaun. The swinging door cut into the top of your box will give way when the leprechaun tries to escape. You can try chocolate coins for bait. The trapdoor is a flap that is help up by a small tab of card stock.  Be sure to decorate your trap as enticingly as possible! You want to catch your leprechaun!
I hope you enjoy these St. Patrick's Day crafts with your kiddos and that they have a blast trying to catch leprechauns!
You may also enjoy an eco- friendly St. Patrick's day craft, making your own salt-dough shamrock necklaces and three green smoothie recipes perfect for St. Patrick's Day.

Guest post by Neltje Ann who is a writer for MyCollegesandCareers.com. My Colleges and Careers is a great site for working moms or stay-at-home moms who want to get their education through the best online universities.