The other day I felt like making some muffins because I love having breakfast ready for the kids on school mornings without having to fix it every day. I baked the muffins in the afternoon so my kids could help out with the mixing and then we had a snack and ate the leftovers for breakfast.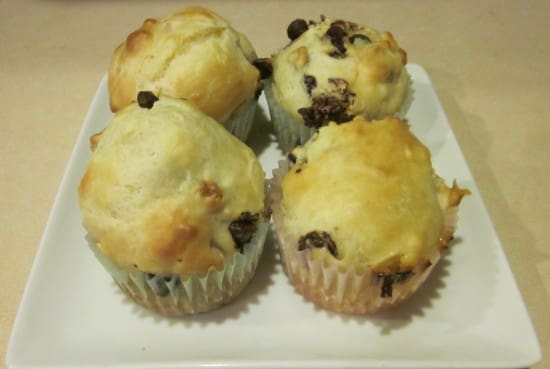 I went to my fridge and discovered I was out of butter (which I like using for muffins more than oil because it taste better) so I decided to go with sour cream muffins which are great because you don't need any butter! Sour cream muffins are also great because they have a very rich flavor- especially when you add in rich goodies that compliment the sour cream! My whole family loved this easy Chocolate Chip Sour Cream Muffins recipe. I hope you do too!
Recipe For Chocolate Chip Sour Cream Muffins:
Serving Size: 12 large muffins
Easy sour cream muffins that have no butter and are pretty in low sugar.
Chocolate Chip Sour Cream Muffin Ingredients
2 cups cake flour
1 1/4 teaspoon double acting baking powder
1/2 teaspoon baking soda
1/2 teaspoon salt
3 tablespoons sugar
1 cup sour cream
1/4 cup milk
1 egg
1/2 cup semi-sweet chocolate chips
1/2 cup white chocolate chips
1/2 cup walnuts (optional)
Chocolate Chip Sour Cream Muffin Instructions
Preheat oven to 400 degrees.
Sift the dry ingredients together into one large bowl (except chips and nuts).
Mix the wet ingredients together into another bowl.
Pour the wet ingredients into the dry ingredients and mix well.
Add the chips and nuts and fold in.
Pour into oil muffin tins and bake for 20-25 minutes or until golden brown on edges.