Here is a step-by-step tutorial for DIY decorative glass bottles. I personally chose to decorate bottles of alcohol but feel free to use these techniques on any type of glass bottle. Since gifting alcohol is so common, why not make more exciting? Decorate a bottle of your best friend's favorite drink with their favorite colors. Not only do they look fun but they are a great memory to keep even after the bottle is empty! This is an easy, inexpensive and fun way to bedazzle any glass bottle.
Tutorial For DIY Decorative Glass Bottles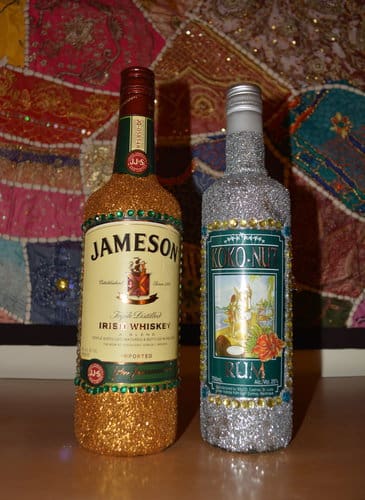 Supplies:
Bottles
Elmer's glue
Glue gun
Glitter
Rhinestones
Fixing spray paint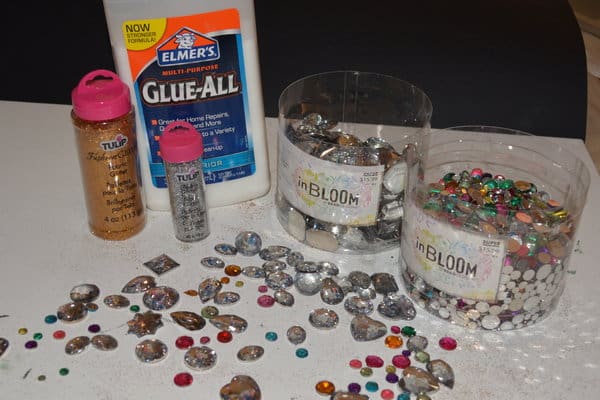 DIY Decorative Glass Bottles Instructions :
First, you want to start with choosing the glitter color. I chose colors that were already apart of the "theme" on the bottles.  But don't be afraid to get creative!
Next, cover the areas around the labels, if there are any, with the elmer's glue and pour the glitter on top. Lightly pat the glitter down then shake it off. This way you get a thicker application of glitter. The bottles also look good with just glitter. Tip: shake the excess glitter into a container for reuse.

Decorative Bottles with Only Glitter

Chose your rhinestone size and color. Again, I chose colors that went along with the "theme" of the bottle itself.
Use the glue gun to fix the rhinestones. I outlined the labels using different sized and colored rhinestones.
To set the glitter, spray a fixing spray paint on top. This will help the glitter stay on the bottle and not stick to everything.
Now you have just turned a plain bottle into a fun gift, enjoy!
Have you ever decorated glass bottles before? Would you make these DIY decorative glass bottles for yourself or friends? They make great DIY gifts and you could do it with items like olive oil bottles as well. If make your own decorative glass bottles, share your creation with us in the comments or tweet us a picture at @familyfocusblog!