March 6-10 is National School Breakfast Week! What is it all about? National School Breakfast Week is about making sure that every kid can and does start their day with a nutritious breakfast. Breakfast is an important meal because kiddos need energy to get them through their morning classes and activities. We all know it is hard to concentrate when you are hungry! Breakfast foods are also an important source of vitamins and minerals our bodies need and it is hard to compensate for missed nutrients later in the day. I have partnered with the national non-profit School Nutrition Association to bring you this post and I truly believe that every child deserves a nutritious breakfast to start the day.
Take the School Breakfast Challenge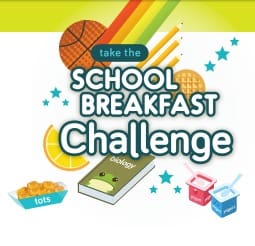 To celebrate National School Breakfast Week, school cafeterias across the country will encourage students to "Take the School Breakfast Challenge" and kick off their day with a nutritious school breakfast.
It breaks my heart to think it but, the statistics say that one in five children in America live in households without consistent access to adequate food! The School Breakfast Program (SBP) was designed to try to make sure that all kids have access to a well balanced breakfast. Armed with scientific research linking school meals and healthy diets to academic success, school nutrition professionals have worked to expand breakfast programs through innovative delivery methods, such as grab-and-go service options, which allow students to quickly pick up their meal from the cafeteria or a hallway kiosk on their way to class. Many schools are even serving breakfast in the classroom so students can enjoy a healthy meal during morning announcements.
Help Celebrate National School Breakfast Week

You can help celebrate National School Breakfast Week by talking to your kids about the importance of a healthy breakfast and providing them access to breakfast at home or through the School Breakfast Program (a low cost or free program). On the TrayTalk.org blog, you can find out more about daily activities, new healthy menu items and fun breakfast programs being implemented in schools.  TalkTray is a great resource for parents and guardians, featuring stories and interviews from school cafeterias and nutrition experts.  Also, to get parents in on the fun, the School Nutrition Association will host a National School Breakfast Week giveaway on Facebook.com/TrayTalk
National School Breakfast Week was launched in 1989 to raise awareness of the School Breakfast Program and to promote the links between eating a nutritious breakfast, academic achievement and healthy lifestyles. The "Take the School Breakfast Challenge" is made possible by the nonprofit School Nutrition Association, Kellogg's and Potatoes USA.  I am thankful that the School Breakfast Program helps put food into hungry children's bellies!
Easy Origami Kids Will Love – Make Origami Fruit!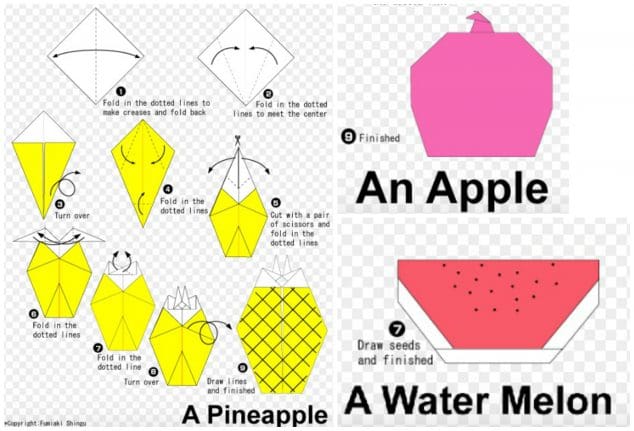 You can also celebrate National School Breakfast Week with a fun some fun,easy origami kids will love.   Make some adorable fruit origami with your kids and talk them about how the food we eat helps strengthen our bodies.  Kids and adults can participate in this fun activity together. Click the following links to download easy origami instruction sheets from schoolnutrition.org for each piece of fruit: pineapple, apple, watermelon.
Pineapples are great for your digestion and a great source of Vitamin C.
Apples are high in B-complex vitamins which are key in maintaining red blood cells and providing us with energy.
Watermelon has  some of the highest lycopene levels of any type of fresh produce.  Lycopene has been linked with heart health and bone health.
Did you know?
Students who eat school breakfast have been shown to achieve 17.5% higher scores on standardized math tests and attend 1.5 more days of school per year (No Kid Hungry).
I hope that you Take the School Breakfast Challenge!  All kids should start their day with a healthy breakfast.