Looking for the perfect heirloom gift for your daughter? Often times, the most perfect gift is not the trendy item of the moment- the toy du jour that has frazzled parents lining up in store aisles.  Sometimes the best gifts are the ones that are meant to last for a girl's lifetime–gifts that she may even be able to pass down to her own daughter someday.  The following gifts are great heirloom gift ideas that any little girl could cherish and love all the more once she's grown up.
5 Ideas For The Perfect Heirloom Gift For Daughter Or Loved One
Music Box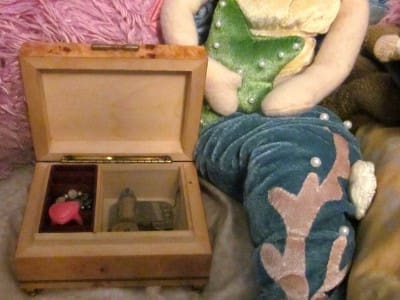 With so many elegant styles and handcrafted models to choose from, a music box is a lovely heirloom gift that can often be personalized with special songs.  Choose a favorite lullaby or music that held a special place in your own heart that you want to share.  Some music boxes even double as a jewelry box or snow globe.
Embossed Leather or Gem Encrusted Diary
A beautiful diary is an exciting gift for a young girl.  Allowing her to record the precious moments of her young life, a diary is also the gift of writing.  One day she'll look back on these writings and her young life will be more sweetly visible to her in adulthood.  There are many fine diaries on the market; you'll be able to find the perfect one to match that little girl's style.
A Locket for Love
Lockets are classic jewelry gifts that never go out of style.  A heart or book-shaped locket with a photo enclosed or, perhaps, a tiny message of love will accompany a girl into adulthood.  Some lockets may be purchased with birthstones embedded in the design.  Also, it's possible to have lockets personalized with unique engravings line initials or even nicknames.
Rare Classic Book
While it may not be possible to procure a first edition of Alice in Wonderland or Little Women, it is still possible to find and purchase rare collectible books that have special meaning.  A beautiful leather bound edition of The Secret Garden by Frances Hodgson Burnett is a great gift idea.  Many older editions were published with renowned illustrations or may even feature gold leaf designs; these artistically beautiful books may certainly increase in value as collectibles, but they will fill a little girl's childhood with an early love of literature.
Collectible Folk Art
An appreciation for one's heritage can begin as a young child with the gift of folk art.  From Russian nesting dolls to Mexican embroidery, there are many examples of folk art from particular countries or regions of the world.  In today's global market, it's often easy to find these items by shopping online.  Other nationality inspired gifts include kimonos, dolls, or ethnic jewelry.
Finding the perfect heirloom gift is a matter of personal choice, but the heartfelt sentiment you'll infuse into this offering will go with a special little girl forever.  Many of these items can be purchased at traditional shopping venues or through specialty shops online.  You'll be surprised at the wide array of options that are available for each type of heirloom gift ideas for girls.
Guest post by Jack Harding who is an avid blogger and enjoys being a dad. He knows his princess is daddy's little girl and he wants her childhood to last forever. His articles mainly appear on parenting blogs. Visit Wish.co.uk for more gift ideas.