Creating a fun space for your child is easy to achieve and can be an enjoyable activity for you and your child. There are lots of ideas to choose from to make your child's ideal bedroom and create a space that your they will love to spend time in.
8 Ideas For Kids Room Decor
Clever storage
Storage is essential for putting away toys and clothes and keeping your child's bedroom tidy. Ensure storage is allocated for different sets of toys and make sure that there is enough space. Ideally you should aim for too much storage so that there is enough after Christmas or after a birthday. It can also be a good idea to place storage at your child's height to encourage them to tidy their room themselves.
Create a blackboard
Chalkboard paint is available in most DIY stores so you can make your child's very own blackboard. The paint can be bought in different colors and it can be worth investing in some good quality chalks to avoid broken pieces scattering the floor.
Glow in the dark paint and stickers
A sky at night scene can be easily replicated in your child's room using glow in the dark paint or bought stickers in the shape of stars. Your child will love to help you stick stars around their room. Don't forget to decorate the ceiling and you can try to put the stars in the shape of actual constellations such as the Great Bear or Orion.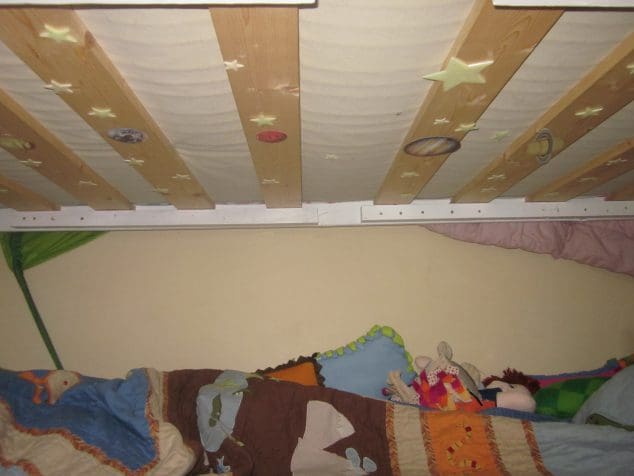 Wall stickers
Wall stickers are a great way to keep your child's bedroom up to date and age appropriate. They can be removed when your child outgrows them or changed as your child develops different interests.
Collection space
Children love to collect things such as postcards, dolls or figures. You can encourage your child to indulge in their collection by making space for them in their room through shelving or dedicated floor space. You can even hang collections like postcards from string attached to a windowsill or door.
Painting a mural
A mural can be painted on a wall to personalise your child's bedroom and make the room unique. You can develop a theme with your child and they may even be able to join in the painting. Mural designs could be a space scene, fairy princess or a fun cityscape or farm.
Lighting and lampshades
A lampshade can fit in with the theme of a bedroom and different coloured lamps and novelty lamps can really bring a sense of fun. Lava lamps and fibre optic lamps can look fantastic and fairy lights also create a lovely ambiance. A tree branch lamp would be great for a forest decor.  A reading lamp is also essential and a night-light should also be considered.
Decorating the furniture
Bedroom furniture can be painted to incorporate the theme or colour of the room. You can try painting with a simple theme such as footballs or polka dots or try putting your child's painted handprint or footprint on furniture, although this could get messy!
Your child will love helping you to develop themes and designs for their bedroom and they will be happy to join in creating their very own space. Making a functional room that incorporates the right tone and theme may even contribute to a more contented child.
Guest post provided by Archers Sleepcentre.