With so many mass produced things on the market these days, handmade wooden toys really stand out as extra special gifts. I am not talking about just handmade wooden toys for toddlers. I am talking about a range of super cool, handmade wooden toys that are great for older kids and even adults! These hand-crafted European toys even double as stunning accent pieces for a shelf or coffee table because they are just that clever and cool to look at and play with. All 5 of these handmade wooden toys qualify as "heritage toys"- toys that can be cherished and passed down from generation to generation because they last. I hope you enjoy these awesome toy gift ideas. This post is sponsored by Oh! Toys but all opinions expressed are my own.
5 Handmade Wooden Toys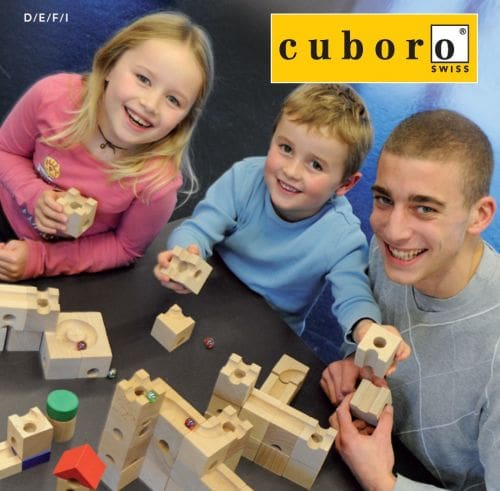 1. Cuboro Marble Track System
Cuboro was developed in 1976 by Matthias Etter from Switzerland when working with special-needs schoolchildren to promote attention and focus, spatial and kinetic awareness and improve fine motor skills. It became a family game in 1985. Cuboro is centered around using wooden blocks with different elements to create marble runs that run on top of the blocks or through the blocks. The Swiss craftsmen accomplish masterstrokes such as a horizontal curve drilling which astonishes even experts. Supplemental sets have been realeased offering ever-increasing possibilities with the new elements. Today the cuboro program comprises 82 different elements. Cuboro is not "only" played for pleasure, but is also used as teaching material and in scientific studies on spatial imagination. It encourages creativity and problem solving and it is fun played all by ourself or as a family. You can see all of the Cuboro products on the Oh! Toys website.

2. Lessing Blocks
The Lessing building "blocks" are anything but normal. From German designer Christian Lessing, you will be impressed by his "Build-a-Wall" and "Little Woodman" sets. All about finding the perfect balance, you will satisfy your urge to create and build, whether in the playroom or on the desktop. These make a great introduction to design for kids.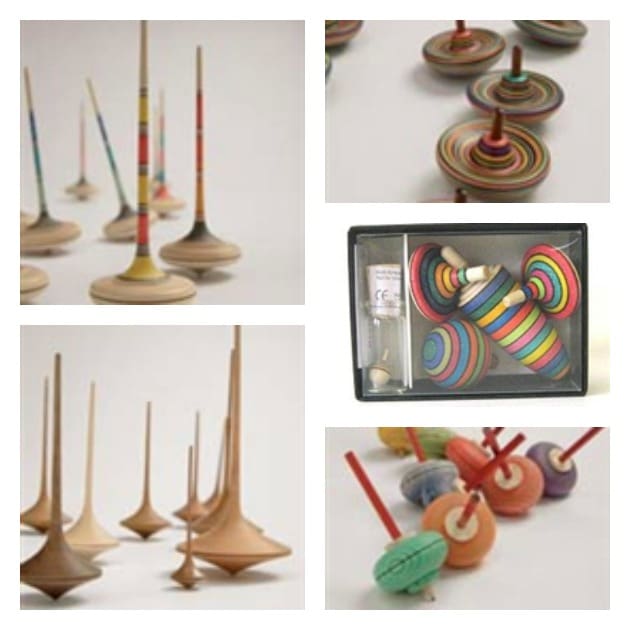 3. Mader Wooden Spinning Tops
While these are the simplest of the handmade wooden toys on my list, there is something fascinating about wooden spinning tops for toddlers and adults. These sophisticated wooden spinning tops range from a polished natural look to various bright tones and they come in all sorts of shapes so you can see what spins longest or fastest or wobbliest!
4. Truzzles
These are just gorgeous. Move over kids, mama wants to play! Truzzles are unique, 3-D hardwood puzzles designed and created by French artisan Frank Paris and his company, Variation Bois. These combine a love of puzzles with beautiful woods they end up as art that you can play with over and over. It is pretty tricky matching up just the right undulations and wood types. Pretty trick and pretty fun if you love a good challenge.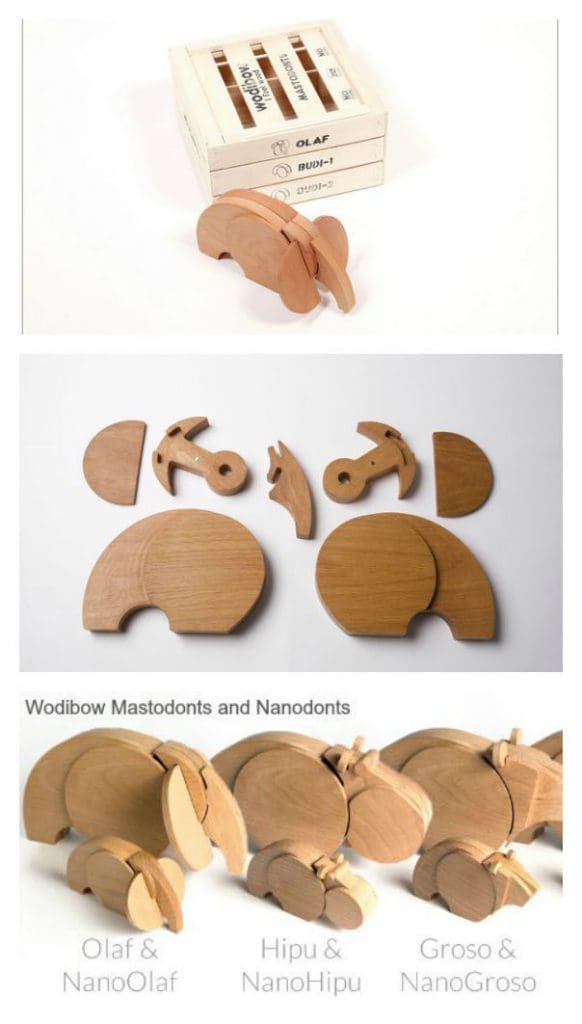 5. Wodibow
These ingenious wooden animal puzzles are from Spain. Internal magnets allow assembly of each puzzle and allow a bit of movement. The Wodibow Mastodonts' and Nanodonts' simple lines, beautiful woods and elegant designs have garnered both Europe's prestigious Red Dot Award and A'Design Award. These are so cute and so fun.
The environmental standards with which all of these handmade wooden toys are made is very high and they all use FSC certified woods. I hope you enjoy these toy suggestions that are both unique toys and just plain fun! Which one was your favorite?
Oh! Toys Coupon Code
You could use Oh! Toys Coupon Code FFBHOL16 – good for 10% off all merchandise at check-out. So go ahead and explore Oh! Toys and take advantage of the savings at oh-toys.com