Where in the world did summer go? It's hard to believe that barbeque season is coming to a close and football season is already beginning. Aside from the leaves changing color and school starting up, nothing marks the transition from summer to fall like the kind of recipes that people crave. In the summer, it's all about grilling, light salads and fruity desserts; as soon as the temperature starts to drop, however, comfort food seems to be on everybody's brains. From cheesy casseroles to creamy soups, the start of fall is always characterized by that comforting, stick-to-your-ribs kind of food. That is why you are sure is love this beef cowboy chili recipe.
The only problem with fall comfort foods is that, while they're delicious, they're typically not the healthiest. Luckily though, it's possible to create hearty and comforting meals at home that don't use excessive amounts of cream and cheese, and chili recipes are some of the best examples of this.
Chili is one of fall's most popular recipes for a number of reasons, the first of which is its ability to strike the perfect balance between healthy and hearty. Even without cream or cheese sauce, chili is known for its thick, saucy texture as of a result of its heavy use of tomato products. Because diced, stewed, or sauced tomatoes are so perfect for hearty, filling dishes, using tomato recipes in the cooler months is one of the healthiest ways to approach comfort foods. Chili's spice adds another healthy aspect, too; spicy foods have been shown to speed up metabolisms and reduce people's typical portion sizes, making them perfect for people watching their figures.
Another reason why chili is such a great go-to dinner is because it's so easy to throw together on a busy weeknight. Ground meat, canned tomatoes and beans tend to be kitchen staples that most people have on hand, and since chili is typically a one-pot meal, it's a fast, low-mess dinner option. There are tons of chili recipes that can be made in the crockpot instead of the stovetop, too, which is one of the reasons why chili is such a popular football-watching food; it can sit in the pot for the entirety of a three to four hour game and be just as warm and bubbly at the end of the game as it was at the beginning.
Try this recipe for Beefy Cowboy Chili the next time you're in the mood for something warm and hearty.  It only takes 30 minutes from start to finish, and at less than 200 calories per serving, it shows that healthy comfort foods can actually exist.
Beefy Cowboy Chili Recipe: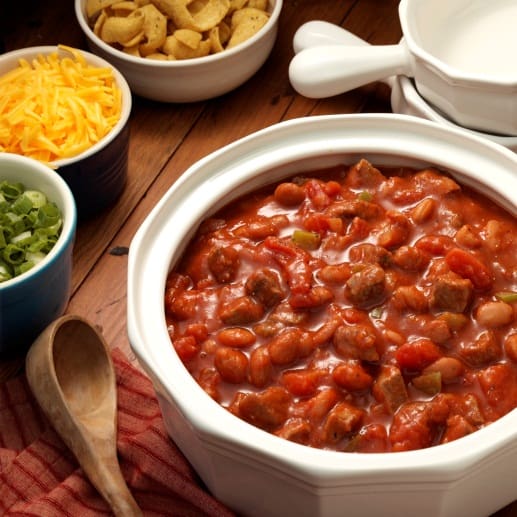 Prep Time: 30 minutes – Total Time: 30 min – Serves: 8 – Calories per Serving: 195
Beef Cowboy Chili Ingredients-
1 pound boneless beef top sirloin steak, cut into small, bite-size pieces
1/2 teaspoon salt
1/4 teaspoon ground black pepper
1 tablespoon Pure Wesson® Vegetable Oil
1/2 large onion, chopped (1/2 large = about 1 cup)
1 teaspoon finely chopped garlic
1 teaspoon Gebhardt® Chili Powder
1 15 oz can Ranch Style® Beans, undrained
1 14.5 oz can Hunt's® Diced Tomatoes, undrained
1 10 oz can Ro*Tel® Original Diced Tomatoes & Green Chilies, undrained
1 6 oz can Hunt's® Tomato Paste
1 cup water
1 teaspoon granulated sugar
1/4 teaspoon ground red pepper
Sliced green onions, sour cream, shredded Cheddar cheese and crushed corn chips, optional
Directions-
Sprinkle steak pieces evenly with salt and pepper. Heat oil in a 6-quart saucepan over medium-high heat for 1 minute. Add steak pieces, onion, garlic and chili powder. Cook for 5 minutes or until steak is browned on all sides and onion is tender, stirring frequently.
Add undrained beans, both types of undrained tomatoes, tomato paste, water, sugar and red pepper; blend well. Bring to a boil. Reduce heat to low; simmer, uncovered for 10 minutes, stirring occasionally. Serve with optional toppings, if desired.
Tips:
You may replace the can of tomato paste and 1 cup of water with 1 15 oz can of Hunt's Tomato Sauce.
For a variation, add a chopped red, yellow or green bell pepper after the steak is browned. Cook and stir until crisp-tender. Add the remaining ingredients and finish the recipe as described above. I hope you enjoy this beefy cowboy chili recipe as much as my family does. It is great comfort food!
Guest post by Meredith who writes on behalf of Hunt's®. Whether you're cooking for yourself or a crowd, Hunt's tomato sauce recipes make delicious meals everyone will love. For more delicious fall dinner recipes, visit Hunts.com.