I love popping a big hunk of meat in the oven that needs hours to cook.  The smell of the roasting meat fills the house.  My family's taste buds are on high alert in anticipation of the delicious meal ahead.  While I love this cooking ritual, it can be difficult to carve out several hours of roasting or braising time.  That is why I save this braised beef brisket recipe for a holiday or lazy Sunday afternoon.  Here is how to cook beef brisket next time you have the afternoon free and want your guests to enjoy a delicious aroma and tender brisket.
Tender Braised Beef Brisket Recipe
Braised Beef Brisket Ingredients:
1 3-pound beef brisket
2 Tbsps. garlic powder
1 Tbsp. coarse salt
1/2 Tbsp. cracked black pepper
7 Tbsps. vegetable oil. divided
2 large yellow onions, thinly sliced
6 carrots cut into 2-inch pieces
2 cups dry red wine
1 1/2 cups beef stock
How To Cook Beef Brisket
Preheat oven to 300 degrees.
Mix paprika, garlic powder, salt and pepper in a small bowl.  Coat the brisket with the dry-rub.
You can leave the meat out so that it approaches room temperature while you do more prep.
Heat 2 Tbsps. of oil in a large heavy skillet.  Sauté the onions until translucent, about 10 minutes.  Place the onions in the bottom of a 13-inch casserole dish.
Add 2 Tbsps. of oil to the skillet.  Sauté the carrots for 10 minutes.  Add the carrots to the casserole dish.
Add the remaining 3 Tbsps. of oil to the skillet.  Once the oil is nice and hot, add the brisket to the skillet.  Sear the brisket on all sides, about 4-5 minutes per side for a nice brown crust.  Place the brisket in the casserole dish.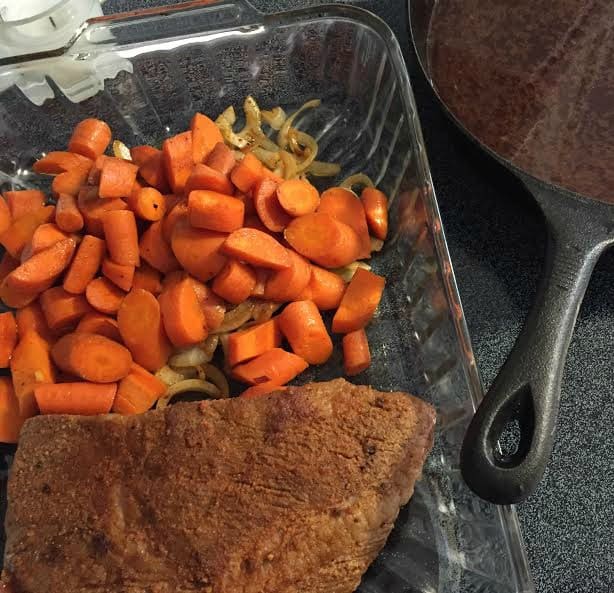 Add the wine and the beef stock to the skillet.  Let the liquid simmer for three minutes to deglaze the skillet.  Make sure that you scrape the bottom of the skillet to get all the yummy brown bits.  Pour the wine/broth mixture over the brisket.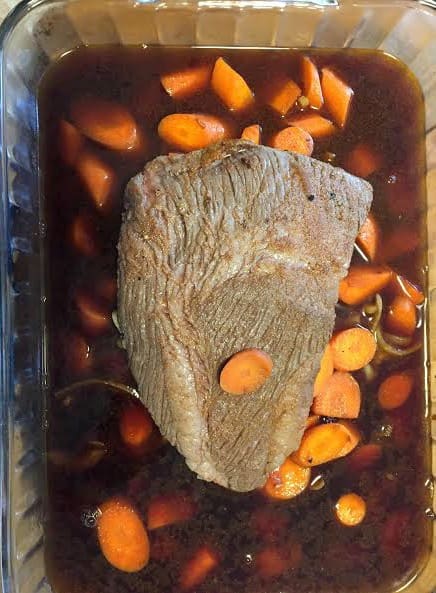 Seal the top of the casserole dish with aluminum foil.  Cook in the oven for 3 hours.  And that is how to cook beef brisket!  Once the brisket is out of the oven, give it 20-30 minutes to rest before slicing.
The reward for hours of braising is a delicious and fork-tender beef brisket my family loves.  I hope your family loves this braised beef  brisket recipe too!