This is not about how to handle a homework and do simultaneous the push ups and sits down while cooking or cleaning the house. It's about making a full body workout and cardio training every day without paying for a gym or training and a baby sitter on top of it.
Weight Loss Walking With a Baby Stroller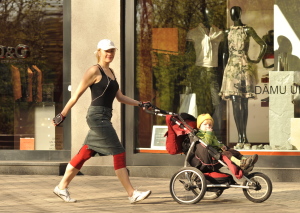 Turn the mom's daily walking with the baby stroller into a fitness session.
Did you know? – Walking is one of the three great ways to lose weight (beside running and swimming)!
What to do to lose weight while walking with the baby stroller:
A daily speedy walking during your baby's nap time. Put your child into your stroller and get out of home for a walk. Walk tempo speed one hour nonstop.  Make a stand up stretching to round off the walking session.
How to Start a Stroller Walking Exercise Routine:
– A Walk a Day – regardless where are you going, park or grocery store, do it faster and every day
– Speedy Walking – walking speed such as you can say couple of phrases but can't keep a normal conversation on the go. Outrun other moms – that's the benchmark
– Start 20 minutes and keep for one hour minutes walking – for the calories burn effect
What you need for your Stoller Walking Routine:
– baby pram or an easy rolling jogging stroller
– any convenient shoes (sports shoes not obligatory)
– water to drink
Gym equivalent: an hour of running/powerwalking on the running line+ fresh air as a bonus to enhance metabolism
Costs: zero (plus saving on a baby sitter and car fuel)
Invisible Fitness with the Stroller
These exercises with the stroller are inspired by callanetics. While walking try to push a stroller solely by arms, stomach or butt muscles. It's achieved by holding stroller's handle certain way, isolating one group of muscles and enabling other to work more intense.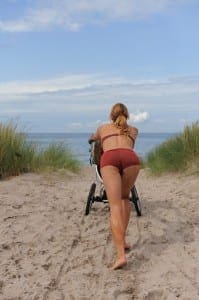 Add a repeated tiny movements for a deeper impact on the muscles – and your body will get a visible lean shape day after day. I call it Strollnetics – it's an invisible fitness with the stroller right on the go
What to do to get fit Arms, Abs and Butt from walking with a baby stroller:
Push a stroller right way to enable the abs, arms and butt muscles to work intensively when you're on the go.
How to:
– While walking, hold a stroller with a narrow grip and elbows fixed to the stomach: this makes abs muscles to work double intense.
– Hold a stroller with the upper wider grip with elbows further back. This trick makes you pushing a stroller solely by your arms, causing triceps to undertake a full load. Lean shaped arms is the result
– Make larger steps and push a stroller up and down the hills/recline to make a booty muscles taking a full load. Daily walking that way guarantees firm and round butt
– Do a 5 minutes stand up stretching to finish a training
What you need:
– A baby pram or an easy rolling jogging stroller (preferable with an adjustable handlebar)
– Convenient shoes and clothing's (sporty shoes/ clothings are NOT needed)
– Water to drink
Strollnetics exercises are invisible – training is done even during strolling in a shopping mall.
Gym equivalent: a 60 minutes strength workout for abs, triceps or arms combined with intense interval cardio training (plus a fresh air)
Costs: zero + saving on a baby sitter, sports clothing and car fuel
Rollerblading with the stroller – a lower body workout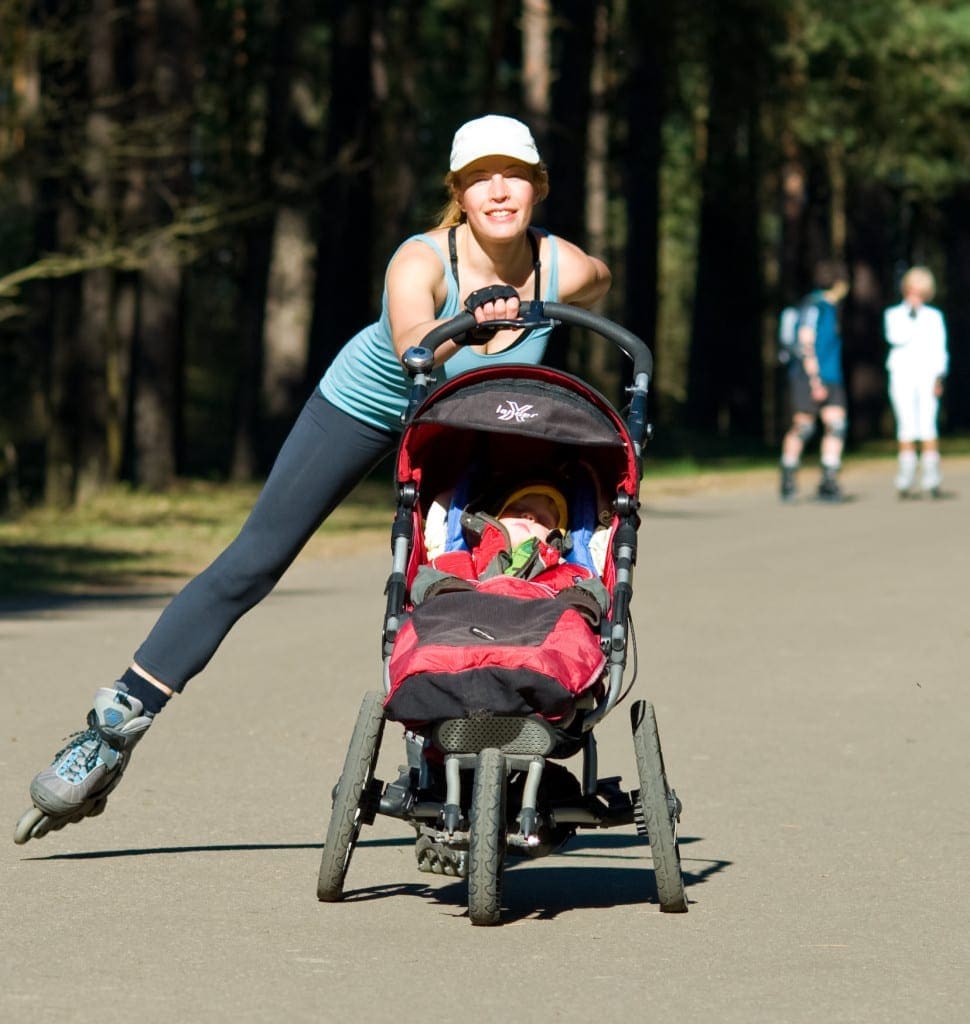 Rollerblading for fitness is a slow speed inline skating pushing a baby stroller combined with the special skating technique to workout hips, butt and stomach muscles.
What you need:
– Proper jogging stroller with three fixed wheels
– Safety Leash and cycling bell on it
– Head support for a child
– Rollerblades
– Water to drink
How to do it:
– Slalom skating technique: works out stomach and hips muscles
– Half circles: intense strength exercises for the butt and hips
– Infinite eight – abs and butt muscles skating technique
-From weekly to twice a week (I'd not recommend often, as it is high intensity workout)
Attention: rollerblading is not recommended with the babies under 6-9 months old.
Gym Equivalent: intense 1,5 h lower park strength workout combined with the cardio training+ fresh air benefit
Costs: zero (you just need to have a rollerblades)
Long Lasting Stroller Fitness Results
Walking fast with the baby stroller every day just one hour until your child outgrows the stroller, will have a life changing impact on your life and your body!
Stroller Fitness is Free Fitness for Moms
My philosophy is that the best things in life are for free. It's every mom's right to get her body back after child also for free.
We don't need to pay for a gym, coaches and the baby sitters to make ourselves fit and healthy. Get the stroller and start walking!
Guest post by Elena Filatova who is a stroller fitness expert, blogger, an author of Strollnetics, a mom that has done more than 5000 miles with the baby stroller. In her Walkingmama blog she shares her experience on losing weight and getting fit solely by walking with the baby stroller! @walkingmama_net