Yes, like the Fourth of July we can break out the fireworks and celebrate independence when our child learns simple tasks and in turn takes those tasks off our "to do" list! Often times we may miss this celebration because we fail to see that small growing pains now, mean bigger mommy free time rewards later. Teaching kids independence may initially take more work but independence of a child supports the whole family.
If you have been in the position of doing a task for your child because they cry and throw a fit leading you to just quickly do things for them in order to move on, you need to read this excerpt from Kristi Pelzel's book: "Kid-ganize! – Teaching Kids To Be Organized".
Teaching Kids Independence and Organization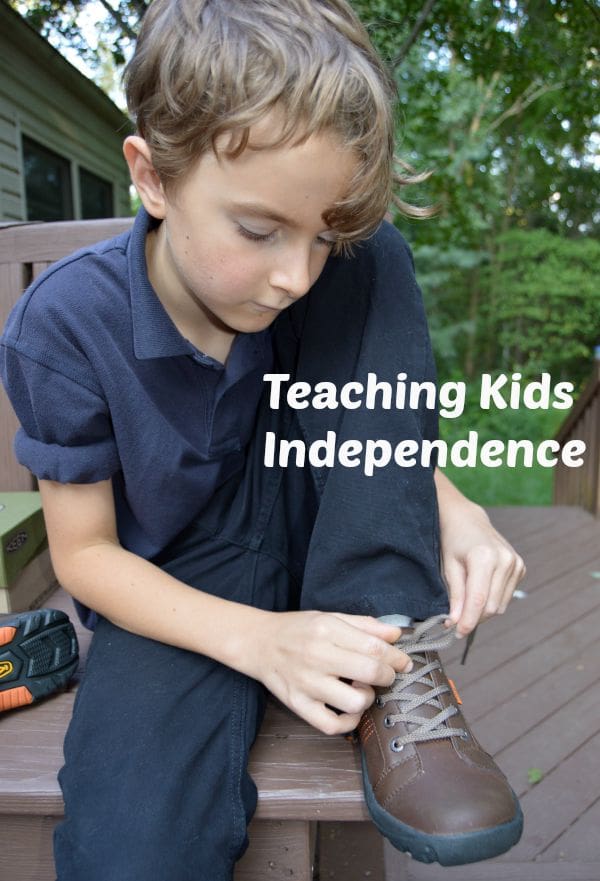 (Excerpt reprinted with permission. )
When Stephen was 4 years old he received his first pair of kids designer shoes with laces. He had learned to tie them on his own the week before his mom had to go out of town. The day she returned, she walked in the front door to see Stephen sitting on the stairs diligently trying to tie his shoe.
After saying hello, Stephen told his mother that he couldn't do it.
His mom started to reach down to do it for him when his father walked down the stairs and stopped her. "He can do it!" he exclaimed.
Stephen started crying. Looking to his mother, he again told her he couldn't do it. Before his mom could get too upset with her husband he said, "If Stephen wants to go to the park and play he can tie his shoes."
About twenty seconds later Stephen had tied his shoes and was jumping into his dad's truck. Mom was amazed at Stephen's hidden skills that magically surfaced with the right motivation.
Dad was building Stephen's independent foundation and mom hadn't given Stephen enough credit for his abilities.
Think About It
Are we holding our kids back by trying to do everything for them?
How important is it to transfer skills, like getting organized, that lead to independence?
Do we let them out of the task if they whine or cry?
If children can do a task when given the right reinforcement and motivation (playing at the park with dad), can they do more using the same methods?
Right now you can get the Kid-ganize!: Teaching Kids To Be Organized on Amazon  in paperback or for a limited time, the Kindle version is free! I have included my affiliate amazon link below:
Are you teaching kids independence? What are your best tips?