I just love reading inspirational quotes. Sometimes words just hit you in a way that really connects with you. I have been searching out and saving up inspirational quotes about many topics and saving them to my Impactful Words Pinterest Board for several years. Today, I thought I would share some of my favorite inspirational family quotes with you. These family bonding quotes will help you remember and be able to verbalize the importance of family time.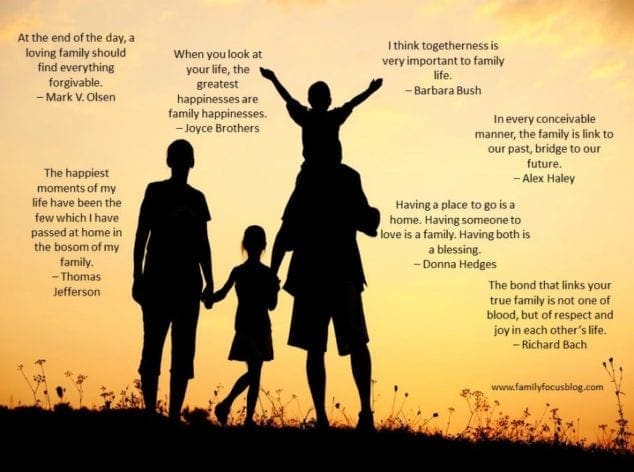 Inspirational Family Quotes
I have gathered up 7 great inspirational family quotes into one image that you can print or save to Pinterest for save keeping. I hope you enjoy these family time quotes as much as I do. I truly believe that nothing is as important of family and making sure that we are there for each other to always be supportive and lend an ear or advice when needed.
"At the end of the day, a loving family should find everything forgivable." -Mark V. Olson
"The happiest moments of my life have been the few that I have passed at home, in the bosom of my family." -Thomas Jefferson
"When you look at your life, the greatest happinesses are family happinesses." -Joyce Brothers
"I think togetherness is very important to family life." – Barbara Bush
"In every conceivable manner, the family is link to our past, bridge to our future." -Alex Haley
"Having a place to go is a home. Having someone to love is a family. Having both is a blessing." -Donna Hedges
"The bond that links your true family is not one of blood, but of respect and joy in each other's life." -Richard Bach
"Being a family means you are a part of something very wonderful. It means you will love and be loved for the rest of your life." -Lisa Weed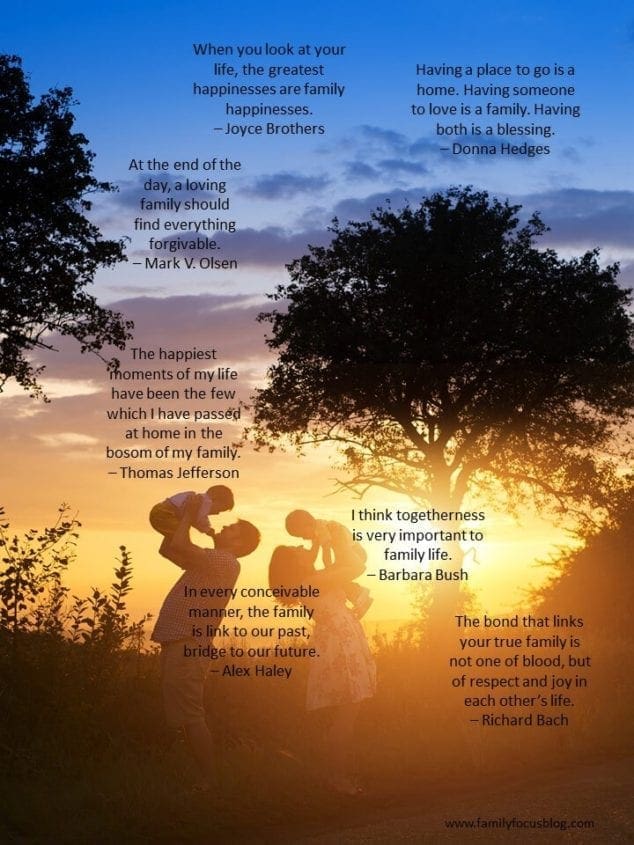 Here is a bonus inspirational family quote:
"Nobody knows you or understands you like family." -Scarlet Paolicchi
Here are a few bonus family bonding quotes from my Pinterest board:
So which ones of these inspirational family quotes were your favorites? Hard to pick right the best one of these family bonding quotes, isn't it?